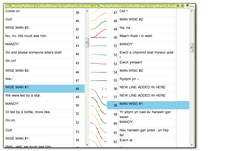 Note to the wise: This article is quite some years old now and the alignment tool has improved a lot with many more useful capabilities since Trados Studio 2021.  But there may still be some value in this one so I'm leaving it here for posterity!
The new alignment tool in Studio SP1 has certainly attracted a lot of attention, some good, some not so good… and some where learning a few little tricks might go a long way towards improving the experience of working with it.  As with all software releases, the features around this tool will be continually enhanced and I expect to see more improvements later this year.  But I thought it would be useful to step back a bit because I don't think it's that bad!
When Studio 2009 was first launched one of the first things that many users asked for was a replacement alignment tool for WinAlign.  WinAlign has been around since I don't know when, but it no longer supports the modern file formats that are supported in Studio so it has been overdue for an update for a long time.