One of the more common questions I see on the forums today is "I've finished my translation and now my client is asking for a TMX.  How do I get this from Studio?".
In its simplest form the process could not be easier.  You simply open your Studio Translation Memory in the Translation Memories view so that it appears in the list, right-click it and select export… like this:


This creates a TMX file and you're all done.  However, and there's always a however, what happens under the following scenarios:
The TM is your main TM and it contains the translation for this project you have just completed, and 357,652 more translation units for all the work you have ever done.
You translated your file using field values that were appended to each translation unit for the client you were working for and they want the TMX complete with these values to use in SDL Trados 2007.
In these cases you probably want to be a little more precise than simply exporting your entire TM to TMX.  So let's tackle the first issue first.
Using a Project TM
If you happened to create a Project TM when you started the Project then you would simply locate this TM and do the same thing as I described at the start – open in the TM view, right-click and export.  You'll know if you used a Project TM because this only happens if you create a project and specifically ask for this to happen.  So at this stage of the project creation you select the "Prepare" option:


"Prepare" as opposed to "Prepare without project TM" will create a Project Translation memory and it is not the default selection.  When you select it you will see this in the list of tasks to be completed which creates the Project TM in the Project Settings like this:


During Translation it is the Project TM that will be updated and not the Main TM that you based the Project on.  So if you are using this method of working then you can easily find the Project TM by going to the Projects view, right-clicking and selecting "Open Project Folder":


When this opens you will see something like this:



The Tm folder will contain the Project TM, probably within the specific target language folder, so in this case it was in a folder called en-US.  If you had a multilingual project with lots of target languages then there would be one folder for each target language inside the Tm folder.
So now you just open this Project TM in the Translation Memories view as before, right-click and select export.
Creating a filter on your TM
If you didn't use a Project TM and your translation is now mixed in with all the work you have been doing for years, in one large Translation Memory, then you may still be able to rescue it with a filter.  To do this simply double click the TM in the Translation Memory view so it opens up for maintenance and then do the following: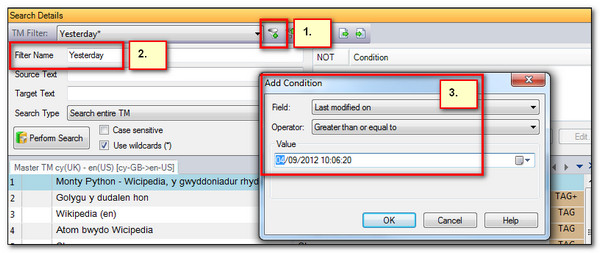 Click on "Add filter"
Give it a name (not essential… but if you want to save it for use later it may be handy)
Click on "Add" and add a condition
In this case I selected greater than yesterday as this should ensure the work translated yesterday and today will be included.  Then click on "Perform Search" to make sure it looks as though the filter is selecting the things you need.  Then if you want to save the filter click here to save it:


If the results shown in the TM View look ok then right-click on your TM as before, select export but this time add the same filter settings you just tested:


This time you get a TMX with only the Translation Units that were added since the 4th September 2012 at 10:06:20 (in my example).  Note that if you're confident about the results you could simply go straight to this step and don't bother opening up the TM as I showed here.
Importing the SDLXLIFF
Another way to handle this is to create a new TM in Studio and import the Studio bilingual file you just translated (SDLXLIFF) into it.  This is similarly easy… you create the new TM in the TM View here:


Then simply right click on it in the TM View and select "Import":


Select the SDLXLIFF, making sure you take the one in the target language folder if you created a Project, and import.  Then you export this new Translation Memory to TMX as the example above.
Using the SDL OpenExchange (now RWS AppStore)
There are a couple of neat applications on the SDL OpenExchange (now RWS AppStore) that will allow you to convert your translated files, so the SDLXLIFF files, directly to a TMX.  So if you don't want to mess around with Studio Translation Memories first then this might be the ideal mechanism for you.  The applications are the SDLXLIFF to Legacy Converter and SDLXliff2Tmx.  Both work in a similar way where you just drag and drop your SDLXLIFF files, or select them, and click a button that will convert these bilingual files into TMX files that can be used to update a Translation Memory.
The SDLXLIFF to Legacy Converter interface looks like this: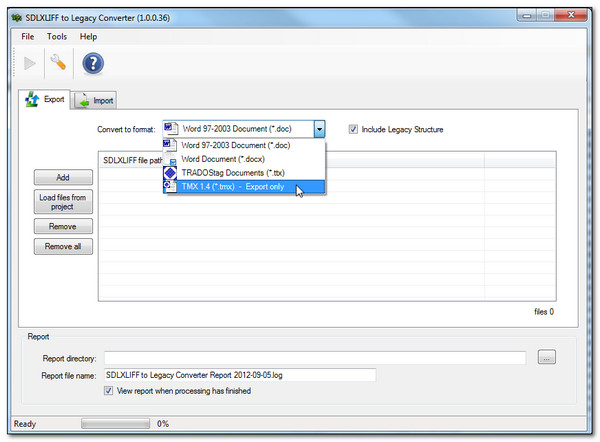 And the SDLXliff2Tmx interface looks like this:


Both applications offer some neat filtering options for only creating the TMX with the contents you need and are fast and simple to use.  I'd recommend you take a look anyway… neat tools to have in your Studio armoury.
Maintaining Trados 2007 TMX Format
If your client wants the TMX for use in Trados 2007, and you have been using fields that are added to your translation as you work so that the TM is updated like this for example then a different approach to creating the TMX is advisable:


The problem here is well documented by Tanja in her blog "Tanja's thoughts on the translation industry" so I won't go into lots detail here.  Suffice it to say that the TMX created by Studio is perfect for exchanging TMX files with other Studio users as the size is far less than that of an SDLTM, but if you wish to retain things like these fields so they are usable in Trados 2007 as well then you either have to follow the workaround suggested by Tanja, or use another OpenExchange application called the SDL Translation Management Utility.
This tool allows you to export a Studio SDLTM as a TMX suitable for Trados 2007 users.  The interface looks like this:


You just select your Studio Translation Memories, or drag and drop them, and then switch to this tab where you specify the folder to place the TMX files and then process the export:


An export from Studio looks like this where you can see the property elements containing the fields I created and used during the translation::


However, when I import this TMX into Trados 2007 Translators Workbench I see this where the two fields are not visible:



If I look at the TMX created from the OpenExchange application it looks like this, so similar but with different property attributes for the fields:


Importing this one into Trados 2007 looks like this where the field values I used in Studio are clearly seen:



So in summary I think there are many ways to get your TMX, but it's important to know why you are creating it and make sure you either set yourself from the start so the process is simple no matter what you have to do, or use one of several methods as shown here… all of which are not too hard it's just a case of knowing how.