Updated January 2015 : Also possible, and easier, to use the Variable Manager from the SDL OpenExchange (now RWS AppStore) for this.
I mentioned in a previous post that it wasn't possible to import long variable lists into a Studio Translation Memory using the desktop version of Studio. You can do this with GroupShare, but the ability to do this in the desktop version is a work in progress.
Well that wasn't quite true and as I've been preparing for some roadshows and events that are coming up this month I figured out a simple workaround using SDL Trados 2007 Suite.
The principle uses the ability of Studio to upgrade a Trados 2007 Translation Memory and migrate all the language resources at the same time, so segmentation rules, abbreviation lists, variable lists and ordinal follower lists.  So, here's what I did… I have a Studio Translation Memory, in this case English to German, and it has no variables at all. I also have a text file containing thousands of post codes which I would like to be variables in my Studio TM.  So first I create an empty Translation Memory using SDL Trados 2007 Suite and I copy and paste the list of variables in one go into the variables list in Workbench here (no lessons on how to use Workbench here… hopefully not needed!):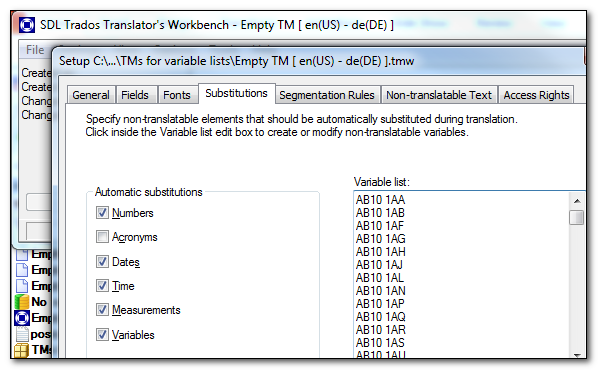 I then upgrade this Translation Memory in Studio, but also select my Studio Translation Memory like this:


On the next screen I can decide how I wish the TMs I selected to be handled in terms of merging them or just upgrading them.  So I merge them into a single TM, which I can do as they have the same language combinations:



This next part is the important bit.  On this screen there are six tabs across the top containing various options to consider when upgrading your TMs.  The last tab to the right is the Language Resources tab where you have the opportunity to use an upgraded language resources template with your new merged TM.  I choose to use the upgraded one and click on Finish:


That's it… I now have a new TM in the same folder as the one that contained my Workbench TM and my original Studio SDLTM.  If I open this one in the Translation Memory View and look at the language resource settings I can see that I now have the Variable List and the Segmentation Rules as bold items which tells me they are not the default anymore:



If I double click the Variable List I now see that my list of thousands of postcodes are in my Studio TM and I didn't have to enter them one at a time: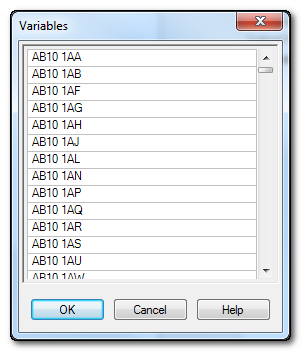 So, that was pretty painless and a useful exercise… but just a few notes on this.  First, if you had custom segmentation rules in your Studio TM then these will not be present here because you have just used the upgraded rules from Workbench.  So you would have to reset them by selecting the Segmentation Rules item and clicking on Reset:



Then, if necessary you add in your custom rules again, Studio is using a new merged TM for this so you can open your original and copy the rules… nothing is lost.  Or just reset them so you are using Studio defaults rather than the older Workbench rules (unless you had a reason for wanting the workbench rules of course..!)
The second thing I wanted to mention is that you could go through this with two empty TMs, one from Workbench and one from Studio so that you now have a "shell" TM, and then export your Studio TMs as TMX into your shell.  This way you don't have to worry about custom anything as you have the required language resources in your "shell" and all you do is import the Translation Units.