These "quick" jobs are never that quick if you want to make sure you add the translation to your Translation Memory, or leverage the work you've done before.  You need to copy the text into a word document, or similar, then open the document in your favourite translation environment, translate the document, save the target translation, open the document and copy the text, finally paste it back into your email to return to your client.
So they're never that quick unless you know about SDL T-Window for Clipboard from the SDL OpenExchange (now RWS AppStore). (Note: It is installed by default with Studio 2011 so only 2009 users need to actually download it)
Start Menu -> All Programs -> SDL -> SDL Trados Studio 2011 -> Open Exchange Apps


This application, or a version of it, has been around as part of SDL Trados 2007 for years but many users weren't aware of its existence.  Judging by the small number of downloads, 201 as I write this article, many people might not know about it today in its updated and improved form for SDL Trados Studio.
The basic idea is this.
I copy the text I want to translate from my email (sentence by sentence, or the entire paragraph if you use paragraph segmentation)
The act of pressing ctrl+c to copy the text activates T-Window and looks up the text in my Translation Memories (concordance or full segment lookup)
I correct the translation returned in T-Window as needed and then press ctrl+enter to confirm the translation (adding to my Translation Memory) and am automatically returned to the email
I now press ctrl+v which replaces the original text in my email with the translation
That's it, and it could be any application at all not just an email.  So if you are editing inside a desktop publishing package for example then you can use T-Window; if you want to use your Studio Translation Memories but have been forced to use another Translation Environment then you can use T-Window… basically if you can edit the text you have to translate then you can use T-Window.
Here's a quick example of the process showing what it looks like as I work…
So I reply to the email first and copy the source text into my response like this: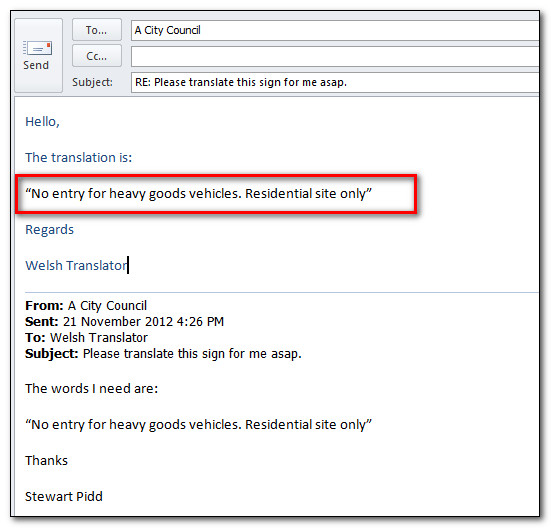 Then I select the first sentence in the email and press ctrl+c. This brings up T-Window like this where you can see the results from the TM and the top entry already entered into the target editing box at the bottom: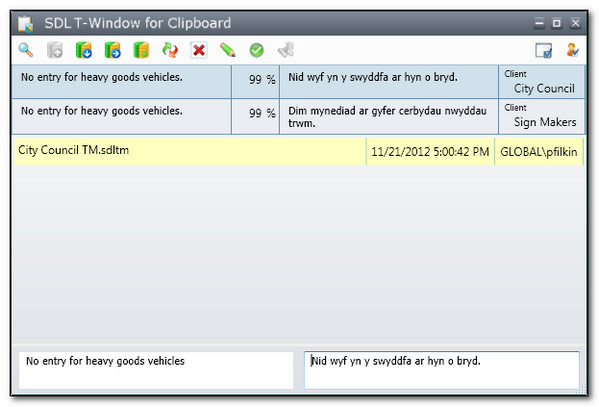 I can edit this, or just accept it… I'll just accept it as I can see I seem to have done this before for the City Council (from the field attributes at the top).  So I press ctrl+enter followed by ctrl+v and now I see this in my email: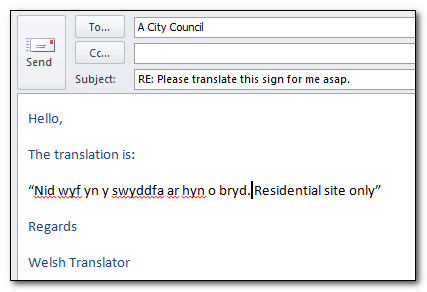 That's the first sentence done and now I can then repeat the process for the rest… simple.  So I was able to use my Studio Translation resources without even opening Studio and translate the email directly in my email application.
I can also use this for concordance searching which is really handy because I could not only do this when I'm translating, but I could also just use this as a way to look up words and phrases that are in my Translation memory without using Studio.  I know of quite a few translators who have quoted this ability in Trados 2007 Workbench as being one of the main reasons they keep their old Translation Memories up to date even though they use a different translation environment now.  So if you chose Studio as your replacement for Trados 2007 then you can still have this.  For example if I type in (or copy from the email) the word "only" and then use the same shortcut for concordance as I would in Studio… configurable so I have this as F3 which is the default… I see this: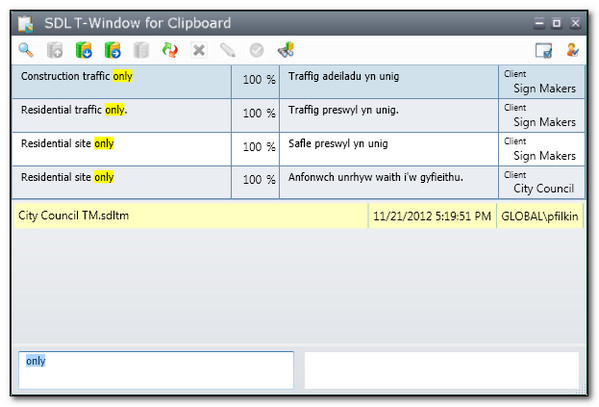 As you can in Studio you can also have this set up to use as many Translation Memories as you like, and you can also use fields and attributes and other settings as if you were in Studio… but this article isn't intended to be a full lesson on how to use this application.  Visit the OpenExchange and download the tool… unless you are a Studio 2011 user and already have it but maybe didn't know it?
Just to finish off let's take a look at my lovely finished sign taken from this article which describes this as a real piece of work carried out for a Welsh City Council.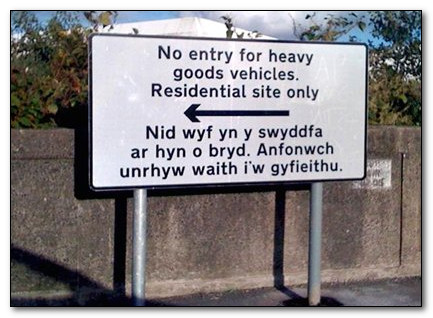 Looks lovely… but unfortunately I've played the role of the real customer who mistook this for a response to his request:
"Nid wfy yn y swyddfa ar hyn o bryd. Anfonwch unrhyw waith i'w gyfieithu"
It actually means:
"I am not in the office at the moment. Send any work to be translated"
Amazing things went that far without a check… or is it a testament to the Welsh sense of humour!