With the release of Studio 2011 SP2R a few changes were made to the QuickInsert toolbar so that space could be made available on the toolbar for functions that were thought to be more useful to most users… such as custom QuickInserts for example:



Unfortunately many users immediately found that the way they liked to work, in a nice tag-free environment was disrupted, because in making room for these useful functions the force-off functions were moved to the QuickInsert list in here: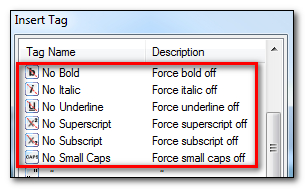 This makes working with the Bold On then Force Bold Off QuickInserts very cumbersome… in fact unworkable in practice.
There is a way around this, until further improvements are made to the QuickInsert feature.  You can use Ctrl+spacebar as a keyboard shortcut that will force off all formatting making it quite simple to type as you work, bold on and Ctrl+spacebar bold off.  I prepared a short video to explain how this works in practice, and it also shows another way to work by forcing the formatting off by using the Ctrl+comma shortcut for the formatting itself…. so
Social sharing, kindle or email....