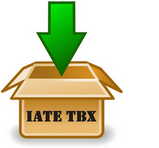 Since writing my last article on handling large TBX files I have extracted a few TBX files as language pairs only from the very large TBX provided by IATE and thought I would share them here for others to use.  If you want a specific language pair from the 25 languages within the IATE TBX then drop a note into the comments.  I can't guarantee I'll do it quickly, but as the process is fairly straightforward I will add them from time to time.
All of the files below are extracted from the following original: Download IATE, European Union, [2014] Also note that because of the nature of this TBX not all languages are equal.  This means there will be many more English terms in the TBX than anything else.  This gives you two options:
Import the TBX into your favourite tool and complete the missing terms for your own personal use or;
Remove the monolingual entries before import so you have a 100% populated termbase (straightforward if you convert the TBX to Excel first)
You may also find that some entries contain invalid XML that could prevent the import of the TBX into many validating tools.  If this happens you will have to remove the offending entries with a text editor first.  Hopefully you will have an editor that reports the problem and explains where it is.  If you are intending to import this into Multiterm they will probably still be too large as they are, please refer to this article of instructions on how to break them down into bite sized chunks.
Update Date: 150222
Since writing this article the team responsible for IATE have created a tool you can download that allows you to extract single pairs in any combination.  It's called IATExtract.  So I won't be extracting anymore from this date.  The pairs below were requested in the comments so I have done these, but I won't be doing any more.  Notwithstanding this the latest download from IATE will contain more terms anyway so you are best to take your information from their website.

Available pairs (Date: 150222)
Just click on the pair you want to download and you should get a zip file containing the extracted TBX file.  If you find there is no extension on the file inside the zip just add a TBX extension to it after extracting it to a folder on your computer… I know I forgot to rename at least one so there may be more!
English <> Czech
English <> Danish
English <> Dutch
English <> French
English <> German
English <> Greek
English <> Italian
English <> Polish
English <> Portuguese
English <> Romanian
English <> Spanish
English <> Swedish
French <> Dutch
French <> Polish
French <> Portuguese
German <> Czech
German <> Danish
German <> Dutch
German <> French
German <> Slovak
Italian <> Czech
Italian <> Portuguese
Polish <> Dutch
Spanish <> French
Spanish <> Netherlands
 FIGS (Date: 140723)
Not a bilingual pair, but as I have it already I have also loaded a TBX containing only FR, IT, DE, ES and EN.  Might be useful for anyone looking for this combination.
FIGS + English