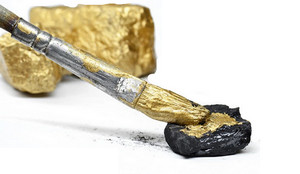 Years ago, when I was still in the Army, there was a saying that we used to live by for routine inspections.  "If it looks right, it is right"… or perhaps more fittingly "bullshit baffles brains".  These were really all about making sure that you knew what had to be addressed in order to satisfy an often trivial inspection, and to a large extent this approach worked as long as nobody dug a little deeper to get at the truth.  This approach is not limited to the Army however, and today it's easy to create a polished website, make statements with plenty of smiling users, offer something for free and then share it all over social media.  But what is different today is that there is potential to reach tens of thousands of people and not all of them will dig a little deeper… so the potential for reward is high, and the potential for disappointment is similarly high.
My guess is you can probably relate to this in some form or another, but as I like to write about translation technology I wanted to use this to look at a new breed of CAT tool that claims to support around 30 filetypes (Studio supports over 70 plus any available through the API/AppStore) including *.SDLXLIFF, and also has the ability to support the Studio translation package, *.SDLPPX.  Now the title of this article is "All that glitters is not gold", and I called it this because this particular tool, SmartCAT, is free and if you read their rhetoric they can provide everything every other major translation vendor can.  They make their revenue by taking 10% commission on translation services ordered through their site, and also for machine translation if you use it (Google, Microsoft and SmartCAT) and they provide a free online translation environment to support the services.  Sounds perfect, and this is backed up by their often used quote"everyone wins, translators, customers and us".  I like the model… what I don't like are some of the claims for it's technology.  The reason I don't like them is because it has the potential to cause a lot of problems for translators and their customers when it doesn't do what it says in the glossy website.  Perhaps I should just ignore their inappropriate commenting of their solution in forums and social media… perhaps not as I think these things shouldn't go unanswered.  But aside from the glittery claims, the solution is also online only and for me this is a non-starter.  Perhaps it's my age… or perhaps it's the frustrating hours I have spent travelling with an inability to get an internet connection that prevented me from doing any work that was not possible locally.  Online is certainly the future, but I think we are a long way off being able to take this step without any sensible alternative.
Digging a little deeper…
I'm going to focus on the supply chain workflow using *.SDLXLIFF files and *.SDLPPX packages as these are the areas I am most bothered about.  The ability of this tool to handle other filetypes is something it's quite easy to see… it can open the filetypes it mentions but as a professional translator have a think about the options you often need to use when preparing files.  With SmartCAT there are no options (other than to tag things using regex afterwards), it simply parses all the text.  This might be passable for a part time translator looking for a simple way to handle a one off job, or where all the text being parsed is translatable, but it may not be adequate for a professional.  If you look at XML file handling for example there is nothing smart about it at all, everything is parsed if it's in an element; no ability to handle anything other than an element and no ability to pick and choose which elements.  Even something simpler such as a DOCX does nothing more than parse the simple stuff… no field values, no tracked changes etc.  I'm sure for the simplest of files this tool might be fine, but I really doubt it's for a professional translator who needs more flexibility than this.  This is my problem… Studio, Trados, memoQ, DVX… all tools designed for a professional translator.  SmartCAT is not in the same league, but from reading the website you could be forgiven for falling for the glitter, especially if you were new to the industry.
The supply chain workflow
When you're working with source files direct for the end client then you take responsibility for the final job.  You have to deal with missing translations, or poorly formatted files.  But when you are dealing with translation packages or bilingual files you are most likely handing them back to a project manager who has to deal with them.  This project manager will have spent time preparing the files so that they are handled in the way they choose and they expect to see the files back fully translated and in the same format they sent them.  Anything less is going to create a lot of work, and potentially risk non-payment for the translator.  So now, if you don't handle the files and packages in a supporting tool you are affecting more than just yourself.  But let's take a look at a few examples based on some very simple testing.
Lack of support for languages
SmartCAT claims support for 70 languages (including variants); Studio supports nearly 100 variants of English alone… the total number of languages supported getting onto 600.  This is a limitation… fair enough.  If you try to add a package containing an unsupported language you get this message:
That's also fair enough.  It does limit its ability to be able to "support" Studio packages but at least you are told at this point even if there is no mention of it in the glitter.  If you just load an SDLXLIFF however the story is different and you can change the languages to be whatever you like… both the source or target.  There is an argument to say this is ok, in fact its great.  But for the project manager who sends out *.SDLXLIFF files only this may not be so great.  In this case SmartCAT overwrites the language code with the one you select and the file you send back to your project manager is no longer correct.  Not so smart.
Perhaps worth mentioning at this point that if I load a partially translated SDLXLIFF into SmartCAT then it presents me with a completely empty target column, so all the work carried out by others is lost.  Not so smart support for SDLXLIFF.
Segment statuses and comments
Project Managers use comments to send information to the translator, and get comments back.  Project managers use different statuses for the segments to differentiate between the work required and to help identify which segments need to be looked at, and which don't.  SmartCAT is a little like the infamous honey badger in this respect; he doesn't give a f…hoot!
I aligned the Studio statuses on the right with the SmartCAT interpretation on the left.  In general SmartCAT considers "translated", "reviewed" and "signed-off" all as "done".  It considers "draft" and "not translated" where source is copied to target as "in translation".  This all provides no way for the translator to know what to work on at all and to make matters worse when you save the target from SmartCAT every single segment that is "done" now opens in Studio as "signed-off".
As for the comments… what comments?  Definitely not very smart.
Support for translatable controls
What do I mean by this… basically anything that uses a non-translatable feature to protect parts of the text.  This is a very common requirement in localisation projects and SmartCAT doesn't handle this at all well.  One quick example creating a Studio project and then opening the package in SmartCAT:
I have no idea what's going on here but clearly the support for packages and sdlxliffs is simply not there.
Conclusion
I'm going to stop looking at this here because I think I've made my point.  I haven't even written about what SmartCAT does to the return files and I could easily write a lot more about this; nor have I looked at how SmartCAT is unable to handle other features in Studio and show how they are represented in the packages/sdlxliff files; nor have I looked at their claims to be able to support MultiTerm XML… at least I have not written in here but I have looked.  There is a lot I haven't looked at, and on this basis alone it appears SmartCAT have not looked very well either.
I think the points I really want to make are these.  First, don't believe everything that you read; the glossy websites and tweets telling you that a tool like this is a suitable substitute for your work in Studio are simply not true.  I imagine the same thing would apply to the features in other specialist translation tools as well.  Secondly, take the trials and make your own tests if you want to be sure.  Thirdly, if you're thinking about using SmartCAT to support Studio projects and want some impartial advice (remember what I said about not believing everything you read, although I will be honest) then feel free to contact me in the comments.
Finally, I don't want this article to sound completely as if I'm having a go at SmartCAT.  I am frustrated by their constant inappropriate marketing messaging, but that doesn't mean they are all bad.  They do have some nice features and in an environment created around files they can work with I can imagine this is a very nice solution.  But it's not all things to all men, and certainly not gold!