There are three things that have stood out for me this year.  The first is how much support SDL have provided to their users to make sure they are able to work successfully with their investment.  The second is how little many users are aware of this, and the third is just how many users have used Trados for a decade or more and were not aware of what a support & maintenance contract can bring you.  This last one has been the biggest surprise to me as I've spoken to people who thought a support contract was more than the cost of the software; to people who thought it was support only and to people who didn't know SDL provided any support at all!  So, one of my resolutions for 2019 will be to try and make sure that all our users are more aware of how to get help, even if they don't want to purchase a support & maintenance contract.  So, I'll cover these things:
Support & Maintenance Contract
SDL Community
The Customer Experience Team
The SDL AppStore Team
The SDL Marketing Team
Training
Customer Experience Program
Support & Maintenance Contract
A Support & Maintenance contract provides you with two things:
ability to get technical help for any issue related to the software you have a licence for and purchased through SDL
free upgrades that are automatically placed into your account as they become available for as long as you have a valid support & maintenance contract
You can find more information on this here, but a quick summary copied from the website is this (Note: you do need to have the latest version of the software to have a contract like this because it includes the upgrades as part of the deal):
| Support & maintenance options | | |
| --- | --- | --- |
| Price | 20% of price cost | 25% of price cost |
| Number of users who can log a support case | 1 named user | Up to 4 named users |
| Maximum response time to critical support requests | 1 business hour | 1 business hour |
| Free upgrades to next version | | |
| Unlimited support requests | | |
| Remote access by our technical support if required | | |
| Live chat for license resets | | |
An example calculation for a Freelancer might be something like this… SDL Trados Studio 2019 FL Edition List Price is 820 Euros (Note: support calculation is based on list price and not the discount you probably paid for the software).  So, 820 x 20% would be 164 euros per year or approximately 45 cents a day.  The upgrade from 2017 to 2019 was 225 Euros so if you had a support & maintenance contract you would have not only been able to get technical help whenever you needed it, but you would have received the 2019 upgrade at no additional cost.  I know some of you will look at this and think that you still save on the upgrade by paying for it once every 2-years but I think this is the wrong way to view it.  For 45 cents a day, budgeted as a known cost that is part of your business planning you have technical help when you need it AND your upgrades covered.
I expect to see some interesting evolution of the support contract in 2019 so if you have not taken a support & maintenance contract before then do think about it for 2019.
SDL Community
Since the release of Studio 2009 SDL has been active in the communities and used to participate in ProZ and TW-Users on a daily basis.  But these sites have technical limitations that make them less attractive for SDL, and only a few staff members venture into that online world.  So towards the end of 2012 (I think) SDL created the SDL Community which I've written about in detail here and here so won't repeat the content now.  The benefits of this community are:
you can ask any question you like
knowledgeable users participate daily just like ProZ and TW-Users
all SDL staff have access, so your posts are read where it counts
knowledgeable SDL staff participate daily
the development team and product management teams run regular Beta programs and engage with users
developers of third-party apps use the community too so it's a great place to get help with apps from the SDL AppStore
It's free!
The Customer Experience Team
If you've ever tried to use the SDL Chat facility, or the contact us forms on the SDL website, then you have probably been in contact with one of the members of the Customer Experience team who are based in Cluj Napoca, Romania or the team in Tokyo, Japan.  This team is multilingual (DE, EN, ES, IT, JP, FR, RO) and can help with questions on just about anything related to SDL language technologies.  They are not a replacement for the support team and don't do the same in-depth training on the products that the support team do, but they have become very knowledgeable and will try their best to help with any technical questions too.  Don't be surprised if you are sent to the Community or to Technical Support… the Customer Experience team are not there to provide guaranteed technical help but if they can't help you directly, they should know someone who can.  The sort of things they can help with are:
general queries about pricing of the products and they can help with upgrades and new licences
they can help arrange a support & maintenance contract
they can try to help with questions around the use of the products
they might even be able to help with a technical problem but don't forget they are not there for this so don't be mad if they can't help!
general queries around education, where to find help and how to purchase a support & maintenance contract
You might have seen the #12DaysofTradosTips if you're a twitter user where the Cluj team put together some simple and useful tips based on the sort of questions they see every day… if you don't use twitter you can find them in this blog article too.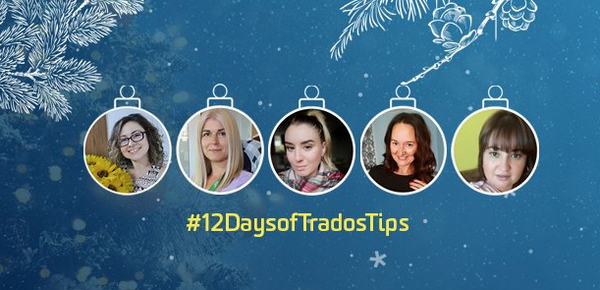 In 2018 some of the team attended roadshows in France, Geneva and Spain… hopefully you got a chance to meet them there but if not watch out in 2019!
The SDL AppStore Team
The AppStore has grown at the end to 2018 to be a team of four excellent developers focusing on the following:
supporting third party developers through the Community Developer forums
building apps to provide solutions for things they see users looking for in the SDL Community
open sourcing the code they build so there is a useful library of resources for third party developers to benefit from
attending the occasional conference and or workshop to help third party work with the APIs
maintaining a tips and tricks wiki for developers
build and maintain libraries that simplify the use of the APIs
Regular readers of my blog may have noticed I like to write about the apps a lot and may have also seen the blogs from Romulus Crisan as he and I started the formalisation of the AppStore team some years ago.  Today Romulus has moved onto bigger things but still retains an active involvement with the development of the team… I'm just lucky enough to tinker!
2019 will be the first year we've had such a strong team and I'm looking forward to seeing what we can do!
The SDL Translation Productivity Marketing Team
It may seem a strange thing to put in here when I'm talking about support, but the marketing team do a fantastic job of providing free resources that touch on many areas of the SDL business:
webinars and youtube videos around the use of the core products (SDL Trados Studio, MultiTerm, GroupShare, Passolo)
webinars and youtube videos around the use of apps from the SDL AppStore
webinars and other activities supporting the development of professionals in the translation industry
A brilliant example of this is the "Translators Guide to fast career progression" which completed at the end of this year.  This was a series of recorded webinars covering things like:
how to promote your Freelance business
pricing your translation services
writing a CV
dealing with accounting tasks
stay happy and healthy whilst freelancing
and a lot more… including how to get help and support from the SDL Trados team!
All of these webinars are delivered by industry professionals with good experience in their fields, so well worth reviewing if you missed it the first time around.  I've no doubt we can expect more from this team in 2019… in fact each year gets better so the bar is really high now!  The team also organise and run, as well as attend many industry events over the course of the year.  So, take advantage of this by checking the calendar of events to see what may be running near you next year.
You can find a lot more of the resources provided free of charge in support of your business activities here on the SDL Trados website.  It's quite hard to write this and not sound like an advert for SDL but don't be put off… these resources are really useful and well worth a read as they are so focused on what we do and provide a unique insight into the industry outside of what we do day to day.  You might even get some ideas to help you kickstart 2019.
Training
In 2014 I wrote an article called "Should I get certified?".  The content is still relevant today and the resources provided by the training team at SDL have grown.  A more recent addition to this is the eLearning course, only available in English, for new users.  This one is worth a look as it's a 2-hour self-paced course delivered through the SDL University learning portal that covers the basics and helps you to get started fairly quickly.  Very useful for completely new users who have no idea where to start.
Customer Experience Program and Studio
Lastly, I wanted to look at what's available in Studio already, and where else than the Help ribbon:

In here you have links to the following:
Then you also have the Customer Feedback link:
This is very important for you to understand because the description in Studio doesn't really explain what this does.  It's all correct in that it doesn't collect all the stuff you wouldn't want to share, but it doesn't mention the really important thing which should determine whether you join or not.  If I was a user this message wouldn't encourage me to join… in fact if I'm honest I think I'd click "No, I do not want to join".  But if I knew that joining also meant the following then I definitely would!
every error you have with Studio generates an error message
the error message is sent to a central server where SDL Development can access them
the development team are able to see which are the most common errors and work on fixing them first
sometimes it's not even necessary to receive further qualification as the errors can be resolved from the reported error alone
So, this is less of a "Customer Experience Feedback" because you don't really have the opportunity to give your feedback.  You can do that in the SDL Community!  But it does ensure that every error, even if it's not something that stops you from working, will be reported so that the development team have a better overview on what they must fix in the next update to ensure the software is working as well as it can for the majority of users.  Notwithstanding that it's going to help to build a more robust product in general.