Post Survey Note: Thank you to all those who completed the survey. It's no longer live, but you can see the final results in the article.
For the last couple of years I've been enjoying the TCLoc Masters degree at the University of Strasbourg.  It's been a really interesting time for me helping to fill in a lot of gaps and widen my technical knowledge around localization, and introducing me to the world of Technical Communication in general.  This latter part was particularly interesting because half of our business at SDL relates to this; so having spent my time since 2006 working with our localization products it's been an eye opener in many ways.  I have done this in my own time and not as part of my job, but TCLoc does look like a course that's tailor made for SDL employees!
The course work is pretty much all over now and I'm working on my dissertation which is the reason for this blog article today.  I've chosen to question the effectiveness of voice recognition technology for dictation, compared to the use of machine translation, in particular neural machine translation.  I have many opinions around this of course, but what I'm really interested in is your opinion as a group of professionals who work with this technology every working day. To get this I'm hoping you'll spend a little time to answer the questions in this article, and I'll try to explain the reasons for each question as I go.  Each question is a simple checkbox, sometimes only one answer is allowed, sometimes multiple answers.  If you have something different to say I welcome your feedback in the comments.  There's only seven questions, but thank you all in advance for sharing your views on this and helping me with this task.
An important point here is that this is not just for Trados Studio users!  I'm interested in the feedback of all professionals working in this field irrespective of the tools used.
The Survey
Do you or don't you use dictation?
To begin with I'm interested in how many of you actually use speech recognition for your translation work.  Sometimes it sounds as though being able to dictate is something every translator wants to be able to do… but do they?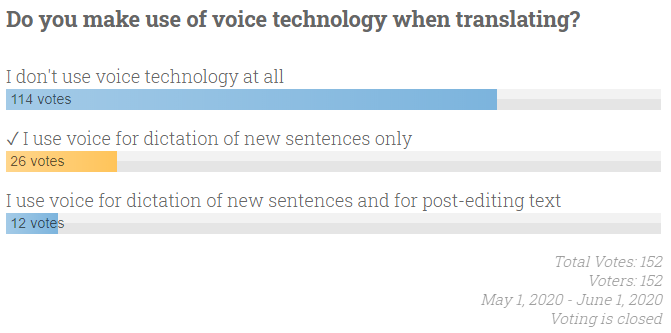 If you don't use voice technology at all, then why is this?  Certainly in the last few years we've heard from a very 'vocal' part of our profession who use it regularly.
If you do use it then what is it that ensures you use this in preference to typing your translations?
What about Machine Translation?
I can still recall the times when the idea of using machine translation was considered laughable and very few professional translators would use it.  Many were curious, and of course worried about whether or not this technology would replace them, but it was mainly the butt of a good joke!  Today however things are different.  Most translation tools provide a variety of plugins for machine translation and it's probably fair to say that most translators working with CAT tools today take advantage of it.  Or is it?
Some CAT tools provide the ability to work interactively with machine translation as well as supporting an ability to pre-translate and post-edit.  So if you do use machine translation, here's a few questions… tick all that apply.
One of the benefits of neural machine translation is its fluency.  The quality of the sentences have become incredibly good, especially for some languages, and this is the main reason we are seeing so many new solutions appearing on the market and also why so many translators have adopted its use today.  But this is a double edged sword, because it's much harder to spot the mistakes and neural machine translation will sometimes sacrifice accuracy for fluency.  Because of this the processes in place for quality assurance need to be really good, especially when post-editing.
One way to make this easier and still retain your productivity is to use speech synthesis.  What I mean by this is you can use voice technology in the form of text to speech to read the source, or the target, to you.  This way, for example, you could listen to the source and read the target simultaneously while you are post-editing.  Perhaps not a solution for everyone, but for professionals with the right skillsets it might be a useful productivity boost and assist with the quality control while post-editing.
So my questions here would be…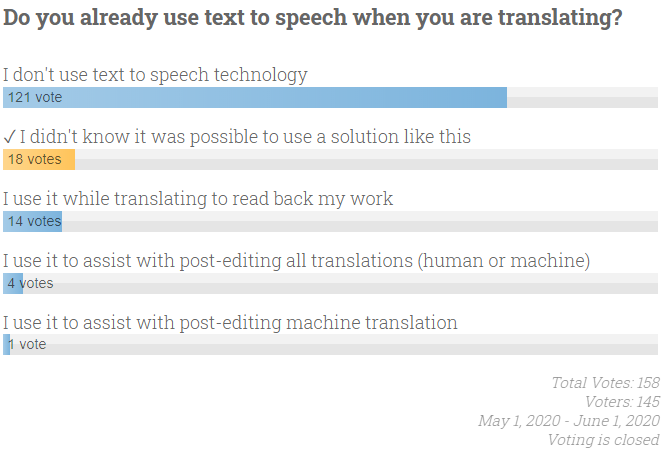 And my final question in this short survey is related to whether you, as a user of dictation solutions, think the ongoing improvements in machine translation will supersede the productivity gains you have seen through dictating all your work.  There could be a variety of answers around a question like this so just tick all that apply and of course feel free to add in any additional comments of your own.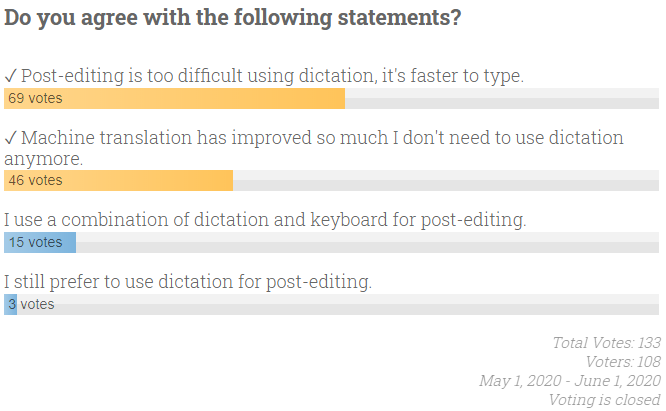 Survey over!
That's it… and if you made it this far and have completed the survey thank you very much!  Before you go, I added some sharing buttons at the end of this blog, so please feel free to share this through the social platforms you use and hopefully you can help me to improve the significance of the results with a larger data set to play with.
And of course if you have any opinions you'd like to share that won't fit into anything I've said so far feel free to post your comments below… I'll welcome the discussion.