Update : 21 Dec 2015
This article is pretty old now… still interesting, but pretty old.  I think if you are looking for help on how to do this then take a look at the Glossary Converter from the SDL OpenExchange (now RWS AppStore) which can convert a termbase to TMX with a drag and drop!  There are a few recent articles on this tool now, like these:
Glossaries made easy…
Great news for terminology exchange…
And you also have a Bilingual Excel filetype in Studio 2015 as opposed to the CSV option.
In the last week or two this question of how to create a Translation Memory from a glossary, or termbase exported to Excel has arisen a few times.  There have also been some interesting and clever responses… but notably not the easiest one.
Studio has a csv filetype that provides some very interesting options, like this:


CSV isn't great for retaining clever formatting, but I think I'd be safe in saying that most glossaries are not formatted anyway, so this presents us with some interesting possibilities.  The simplest and the one referred to at the start of this post is converting your glossary that's in Microsoft Excel to a Translation Memory.
To do this you only need a few simple steps.
Step One
Save your Excel file as a CSV (Comma delimited) file:


Step 2
Set up your CSV filetype in Studio as follows:
Go to Tools – Options – Filetypes – Comma Delimited Text (CSV)
In my file I have source language in the first column of my spreadsheet and target in the second column.  So I make sure have the columns set up like this:

I also make sure the delimiter is set to be comma:

This is because if I look in my CSV file the two columns are separated by commas, like this:

I then check the option to automatically confirm the translations so I don't have to do this (assuming I know the translations are good)

Step 3
Open the CSV filetype in Studio and add the TM you wish to update, or create a new one as you go.  The view of the file in the Editor looks like this: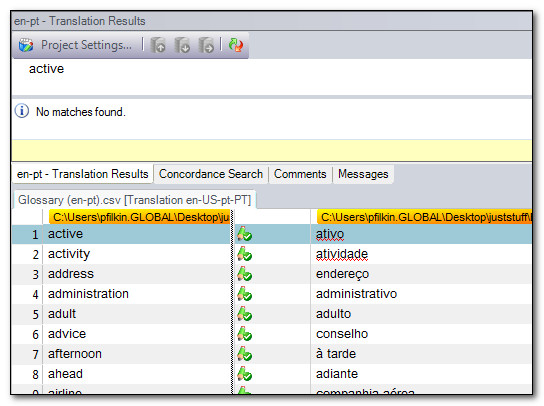 So you can see both columns from the spreadsheet in the Editor as source on the left and target on the right, all confirmed and ready to update into your Translation Memory.  Note in the translation results window there are currently no results showing.
Step 4
Run a batch task to update your TM.  Easy way to do this from here is to use File – Batch Tasks – Update Main Translation Memory (not forgetting to save the project first – see earlier blog on using Open Document)


And Bob's your Uncle… all done.  I now get results from my translation memory window:


My Translation Memory now contains all these Translation Units: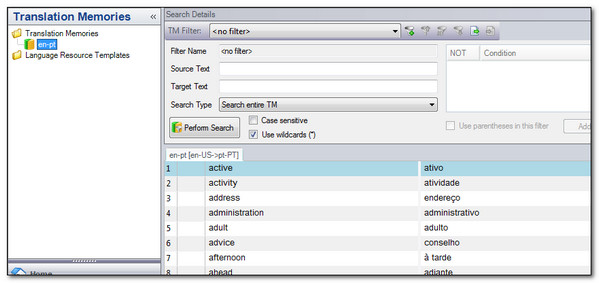 And if I wish to export this as a TMX I can right click on the TM in this view and select export:


If I was only interested in the TMX, then there are also a couple of applications on the SDL Open Exchange that can create a TMX directly from an SDLXLIFF.  So you would only need to open the file in Studio, save it, and then convert the SDLXLIFF…. also very simple and one of them can save in either direction so English to Portugese or Portugese to English (in my example):
– SDLXliff2Tmx by Costas Nadalis, TMServe
– SDLXLIFF to Legacy Converter by Patrick Hartnett, Logos s.p.a.
Once you get familiar with this filetype you'll see there are other interesting applications for it, for example:
Use Studio to QA your terminology
Use Studio to create your terminology by translating glossaries and having the target text placed into the second column automatically
Use Studio to add another translation to an existing glossary by placing the translation of either the first or second column into the third column.. etc.
Use Studio to translate excel files where the source is in one column and the target is partially complete in another.  Here you can make use of the locked segment ability to confirm and lock the segments already completed so you don't waste time working on them unnecessarily
Take comments with instructional material that are in a separate column and convert to structural context to help with the file… for example this:

Can look like this in Studio with this CSV filetype:

Where we see the existing translation is locked and confirmed already and the comments are now reflected in the right hand column as COM.  You can also click on these to see this:

So just a few interesting uses of this filetype… no doubt you can think of many more.