If you want to be able to change the status of several or all segments in one go then the process is to select all the segments and then change the status of the selected group.  So this is two operations and this short post is intended to explain how to do it.

Select all segments using the mouse
To do this select the first one by clicking on the number column on the left:



Then scroll down to wherever you need, and whilst holding down the shift key click on the number of the relevant segment… again in the number column.  You'll know if you did this correctly because all the segments you wanted will change colour.  So in this example I wanted segments 11 to 20 inclusive: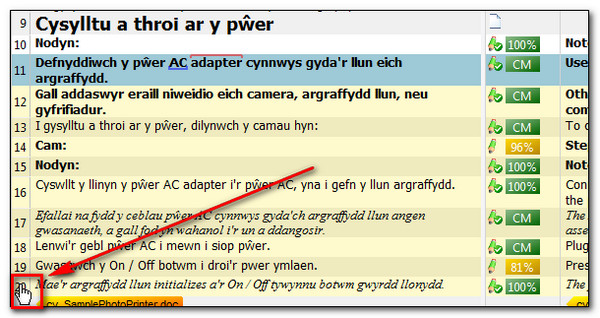 Finally right click, once again in the number column, and this will bring up the context menu where you can select the status you wish to change to:


Now choose the one you want.  In this example I selected "Signed Off" and you can see the coloured segments now all have the little stamp with a tick in it.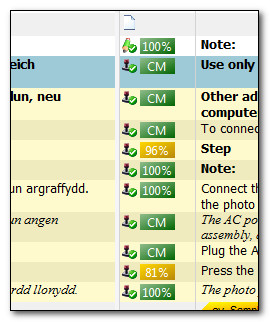 It's worth noting that holding down the ctrl key instead of the shift key will allow you to select non-contiguous segments instead… like this (note the yellow colouring identifying the ones I selected and changed to "Signed off"):

Select segments using the keyboard
A little used tip on how to use the keyboard for this is to use alt+shift+downarrow
This combination will select an additional segment every time you move down.  So you'd select the first segment just by virtue of it being the active segment and then by keeping alt+shift held down you press the down arrow to select as many segments as you like.
If you want non-contiguous segments this is possible too (although we seem to have broken part of this in SP2).  So you hold down the alt key and use the down arrow or up arrow to navigate through the file then every time you click on the spacebar the segment is selected. So the sequence would be for example:
Segment #11:    alt+downarrow
Segment #12:    alt+spacebar
Segment #13:    alt+downarrow
Segment #14:    alt+spacebar
Segment #15:    alt+downarrow
Segment #16:    alt+spacebar
Segment #17:    alt+downarrow
This would select rows 12, 14 and 16.  For all Studio versions apart from the initial release of Studio 2009 SP2 you'll see a little black box appears around the target segment as you select it (the initial SP2 release hid the black box so you were working in the dark a little!).  To make this easier to see I have updated this article using Studio 2014 and recorded a short video here to show you how this works:
Working in Studio 2014 without a mouse