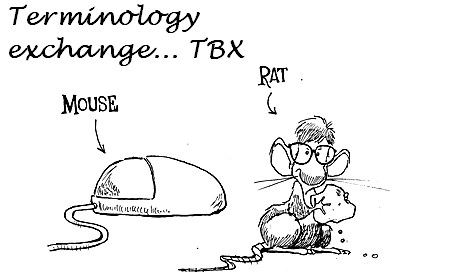 … and this will be particularly good news for users working in SDL Trados Studio with SDL WorldServer.  Today the Glossary Converter was updated on the OpenExchange with a number of very cool enhancements.  These are support for users still working with SDL MultiTerm 2009, support for Microsoft Excel workbooks containing multiple worksheets, Spanish user interface, a number of smaller usability improvements and bugfixes and the one I'm most interested in here… support for TBX.  TBX is a TermBase eXchange format that was developed for sharing terminology between different tools.  The reason I'm so interested is because if you want to use a TBX file in Studio as a resource for your AutoSuggest then you have to use MultiTerm Convert in order to create a MultiTerm TermBase.  This is not too difficult, but it can take a little work if there is a complex structure in the TBX… and of course it can take a little while as it's at least a two-step process.  So making this easier would be great.
The reason I think users working with WorldServer will be pleased is because Studio will convert a WorldServer Term Database (WS loves it's own language for things…) into a MultiTerm TermBase when it is part of a WorldServer Kit (there you go again… WorldServer Package) but if the Kit is created without the Term DataBase inside it and you receive it as an afterthought then it'll most probably be a TBX and you have to use MultiTerm Convert to use it which all takes time and for many users they simply might not bother!
Now, with this latest release of the Glossary Converter you can just drag and drop your TBX onto the Glossary Converter icon and your MultiTerm TermBase will be created automatically for you as a simple glossary that is perfect for using with AutoSuggest.
I've explained how the Glossary Converter works in the past, so this time I've just created a quick video to show you how it works with TBX instead… I hope it's helpful and if you haven't tried this OpenExchange application yet then I really recommend you do so.  It'll open up a world of terminology in Studio you never dared to use!
[youtube http://www.youtube.com/watch?v=Fi8xS_haqFQ&w=420&h=315]
Social sharing, kindle or email....