The very nice people at WordPress sent me an anniversary note today to tell me that I launched this blog one year ago!  Time certainly flies and I hope the last 12-months has been useful and interesting for everyone who reads this blog?
I thought it might be interesting to share a few statistics from this first year as they are easily obtained from WordPress which supplies lots of interesting facts and figures.  I don't know how this measures up against other bloggers getting started, but it's an interesting target for me in keeping this up for the next year.  Certainly I hope I can think of lots of interesting things to write about… and perhaps anyone reading this will give me a few suggestions for anything I didn't cover but should have.  Certainly the SDL Innovate event this month was extremely inspiring so perhaps I'll be able to tie a little customer experience into some of the things I write about this year.
So where are all the readers coming from… running at around 41, 820 views at the time of writing?  I found this quite interesting as time went by because the statistics are nicely summarised on a map like this: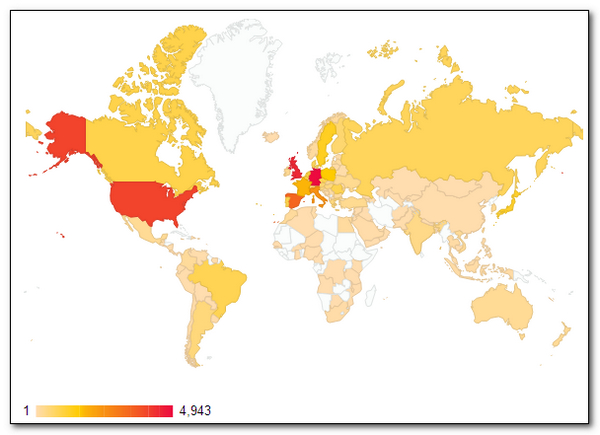 I had to try hard not to get obsessed with filling the map in… even though I have no control over it at all!  But it's quite interesting that the most noticeable gaps are in Greenland, and Svalbard in Norway… big spaces with small populations!  Looking at the population of Svalbard with approx. 2,642 in 2012 made up mostly of Norwegians, but with some Russian, Ukrainians, Polish, Danish, Swedish, Taiwanese and German I wonder if there is any opportunity for Studio 😉  Africa has been interesting because every now and again another one of the 54 countries gains a little colour as someone visits these pages.  Certainly with well over a thousand languages spoken in Africa it would be nice to see the gaps being filled just to imagine that the technology I take for granted, and the lifestyle that lets me use it, is taking effect there too.
The hotbed of activity, at least the top five countries were Germany, United Kingdom, United States, Spain and Italy… in that order.  Probably not too surprising.
Another interesting set of stats is what are people reading?  This is quite hard to be truly accurate because the most heavily read page is the home page, and this changes content every time I post a new article… but ignoring this the most read articles I have written are:
But this doesn't really reflect the time they have been available… so I did a little calculation to see which articles were the most read per day on average based on the time they had been available and also applied a calculation to each article based on the number of days it was also on the home page… this changed the order quite a bit and it may be a better reflection of the things people are reading the most:
So I'm not sure this is truly accurate… although it probably reflects the growing number of readers and also the amount of traffic that promotes these articles at the time.  Another way of looking at this might be to review the busiest days of the year as these are all days when I published an article… certainly the most hits I received on a single day was immediately after I published "Working with placeables that are not automatically recognised", closely followed by "So how many words do you think it is?" and certainly I believe these are things that people want to know about.
Another article that was well read was "Studio on a tablet?" where despite my efforts at honesty I did receive many emails from people wondering where they could get the software to run Studio on their Android or I-Pad… certainly I think this is indicative of what many users look for today when they purchase a solution.
I also thought it would be interesting to look at the search patterns that users used to be directed to this site but these are tricky to summarise because they are so often the same thing written 20 different ways… a familiar problem for translators attempting to find consistency in what they are translating!  However, one thing did stand out, and that was the number of searches where people were looking for help with regular expressions!  Just one of the reasons I devoted several articles to the subject as they can be a little mystifying at first.
I can really feel myself getting drawn into the statistical nerdiness of wanting to analyse the data some more… so I'll stop there and conclude with a summary of the activity across the months since I started: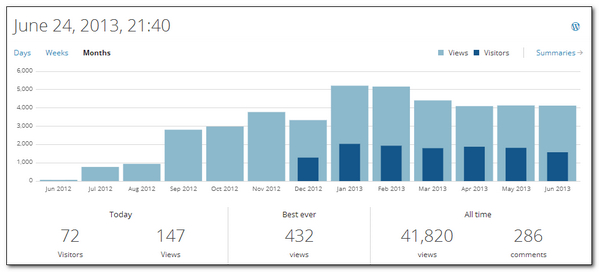 Thank you for the feedback I received over the year… and having managed to publish just over one article a week on average throughout the last 12-months I feel that I've achieved something, enjoyed writing them… and I hope you enjoyed reading them as much.  It'll be interesting for me to revisit this page in another 12-months and see whether I managed to keep it up!