The launch of SDL Trados Studio 2014 this month brings with it the news that SDL Trados 2007 Suite will no longer be supported from the end of this year.  I don't think this will come as a surprise to anyone as SDL had already ceased to support SDL Trados 2007 since the end of 2012, and with the releases of the 2009, 2011 and now 2014 versions of SDL Trados Studio it's inevitable that the 2007 Suite version will follow suit.
But what does this really mean?  Can we live without SDL Trados 2007?  (I'm going to refer to these products separately as Trados and Studio for clarity and brevity.)  I think many users have been happily living without it for some years now, and only those who are exposed to legacy workflows driven by the use of old filetypes or Trados customised business processes experience the problems this can present.  I also think that the number requiring this as a proportion of the entire userbase is somewhat smaller than the various social media outlets would have us believe, and this is probably because historically the Trados user forums have been around a lot longer so these users know where to go for help, and as the new tools have been introduced the question of how to deal with these legacy workflows has been a common theme.
But what were the reasons you needed Trados for after Studio was first launched and can we really do without it now?
 You received FrameMaker 7, or Interleaf/QuickSilver files for translation.  Trados can convert these to TTX using S-Tagger.

You received unsegmented TTX files and you needed to fully segment them to ensure compatibility when the translated TTX was sent back.
You received Bilingual DOC files for Translation.
You received files that your client asked you to convert to TTX or Bilingual DOC for them.
You needed to prepare your files as TTX or Bilingual DOC so your colleagues who were still using older tools could share the work with you.
You wanted to maintain Translation Memories in the old Trados format as well.
You were working for a Client who insisted you connect directly to a Trados Server for Translation Memory
You needed to Align files to create a Translation Memory for your project.
Phew… I think that's about it, and the question that arises now is can we now live without Trados, or do we still need it to be able to do any of these things?  Well let's see… and we'll start off with what's covered in Studio itself, and I am going to be referring to the latest Studio 2014 version.
Legacy DTP Formats
You will still need to convert these to TTX using S-Tagger… but the good news is that this has been built into Studio so you don't need Trados installed to be able to do this.


You can launch the appropriate S-Tagger application from the File Menu and you'll find the familiar applications to create your TTX files here.  SDL have not created new filetypes for these formats because they are really too old, and probably too little used to warrant the development effort in trying to support them directly in the new tools.  So using S-Tagger means you can still use the old file formats and create a TTX which can be handled comfortably with Studio.
Handling TTX or Bilingual DOC Files
If you are sent files in these formats then no worries, Studio can handle these out of the box along with various bilingual formats for CAT tools which can be added through the OpenExchange or created yourself: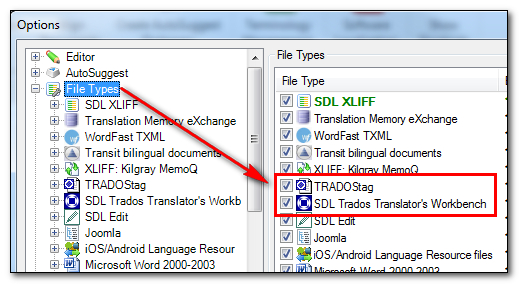 Creating TTX or Bilingual DOC Files
Actually creating these files and working with them to begin with is a different kettle of fish because Studio uses a completely different filter framework and maintaining the old Trados filters at the same time as the new ones doesn't make sense.
However help is at hand from the SDL OpenExchange (now RWS AppStore) and there are a number of applications available to help you work with these legacy formats when you are asked to create them for your customers, or to generate target files.  So let's just take a brief look at these.
SDL TTXiT!
This application has been around for a while now, and it gives you the ability to create an unsegmented TTX file from the source files you are provided with.  This application is an OpenExchange application, but SDL have installed this with Studio 2011, and again with Studio 2014, so you won't find it in the OpenExchange website anymore.  Just take a look in the start menu for Studio 2011, or in the OpenExchange Application navigation menu for Studio 2014.


So what does "unsegmented" mean?  Well, in this case it means that the source language has been set but not the target language, nor any special rules affecting segmentation of the text according to a specific target language.  This means that when you open it up with Studio the segmentation will be completed by Studio, but using Studio rules.  So there is a risk that the final segmentation won't match that of SDL Trados 2007.  This is only a problem if you have to return the TTX to your client as they may not be able to properly clean up the TTX.  I think this risk is quite low however, and many users have been happily using this application to create their TTX files without complaint.  For those who had a problem the solution was to use SDL Translators Workbench and properly segment the TTX with a 2007 TM… but what now?
SDL LegIt!
The answer is a new application that will be released around the same time as Studio 2014.  It looks a little like SDL TTXiT! and this is because it was based on the original idea.  But it has been enhanced with a couple of interesting and useful features:
You can also create Bilingual DOC files with this tool

You can use a Trados Translation Memory to pretranslate 100% matches and fully segment the files
You can properly segment the files even without a Translation Memory as the application will create a default Trados Translation Memory in the background without asking you for anything
Nice!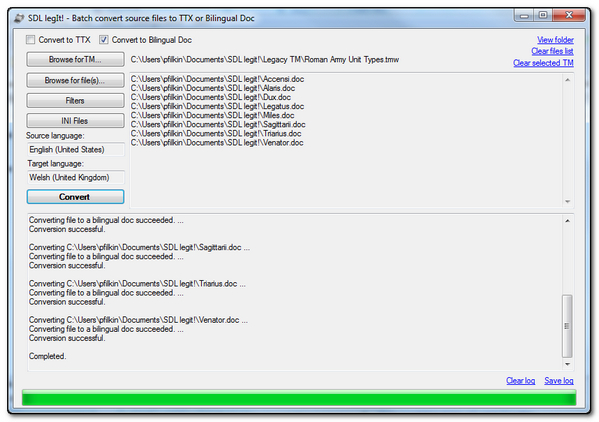 tw4winClean
This handy application from Tom Imhof at localix.biz serves a very useful purpose.  If you have been asked to handle TTX or Bilingual DOC files and provide a "cleaned file" at the end… this just means the fully translated and formatted target file … then you can use Studio to do this with a TTX, but not with a Bilingual DOC.  So this tool will "clean it" for you.  Very simple to use, you just drag and drop your translated Bilingual files from Windows Explorer into the tool and it will remove all the Bilingual markup leaving you with a "clean file"… very handy and fast.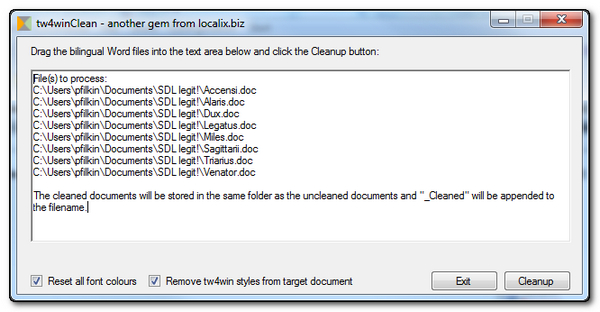 Working with 2007 Translation Memories
Hopefully this is something most users won't have to worry about because they will only be using Studio… but if you do have to work with the older memories then Studio 2014 can help.
Keeping filebased memories in synch
If you have a Trados Translation Memory and you are using Studio, but you want to keep it up to date in both Studio and Trados then this is possible with a little extra work.  I don't think it's a worthwhile exercise however, unless you are maintaining the Trados TM for a client because the content, if you are using Studio, can be provided at any time as needed.  But here's a few ideas, first of all upgrading the Trados TM for use in Studio.  This has always been possible using the upgrade TM route accessed via the ribbon in Studio 2014 here:



This will upgrade your Trados Translation Memory from a TMW/TMX/TXT format to a Studio SDLTM.  But in many ways you can save yourself a lot of hassle by not upgrading them at all, and just using the 2007 TM Provider OpenExchange application plugin to read only the Translation Units in the memory.  Note that it is a read only facility, but this doesn't matter as you are updating the Studio SDLTM as you work and will update the 2007 TM when you are finished.  Once installed you add this to your Project in the same way you add any Translation Memory Provider and will receive lookups as you work based on the contents of the Trados Translation Memory without upgrading it.  You do need the TMW format for this however as TMX and TXT are simply exchange formats:


If you are going to work like this, and intend to try and keep your Translation Memories in synch then I would recommend you always work with a Project Translation Memory.  This way when you have completed your Project you will have a Studio Translation Memory already available just for this job.  You can then export to TMX using the special option for a Trados Translation Memory format here: 

So now you can import the TMX that is created into your Trados TM using Translators Workbench.  So this is one operation where you will still need to have a copy of Translators Workbench available… but if you really want to maintain Studio and Trados in synch then you probably already do!
Working with Trados Server Translation Memories
The process here would be much the same as for the File-based Translation Memories, in that you would export your Project Translation Memory as a TMX and provide this to the administrator of your Trados Server TMs; then the administrator would import the TMX files.
Having said this I am aware of at least one company who has used the OpenExchange to enhance the 2007 TM Provider OpenExchange application plugin to be able to connect directly to a Trados Server based Translation Memory.  So this is perfectly feasible for anyone who wants to do this themselves.
Aligning files to create a Translation Memory
WinAlign, the old Trados alignment tool, has always been made available ever since Studio was first launched.  In Studio 2009 you needed to run the Trados WinAlign tool itself.  In Studio 2011 WinAlign was integrated into the application so it was started from the welcome view.  In Studio 2014 there is a new alignment routine that uses the Studio filters and can be launched from the ribbon directly:



You can read a little more on the new Alignment capability in this interesting post from Daniel Brockmann – New alignment in SDL Trados Studio 2014.
So in summary, do I think there is life after Trados?  Yes I do… I think SDL have reached the point where there is really no reason for anyone purchasing Studio to have to worry about these old formats anymore as there are plenty of applications and built in features around the Studio Platform that are available to you as needed.
There is also a full document called the TTX / Bilingual DOC(X) Compatibility Guide for SDL Trados Studio 2014 Users that goes into considerable detail to help answer all the questions you might have when working in the Legacy workflows.  If it doesn't answer a question then post it here so we can try to improve the document and give you an answer here.  You can find this document here:
Legacy Bilingual Compatibility Guide for SDL Trados Studio 2014 Users