The release of Studio 2014 will bring a number of new OpenExchange applications to the App Store.  One of these is already becoming well known based on the name alone… the SDLXLIFF Toolkit!  The name suggests this is a tool for working with an SDLXLIFF and being able to take it to pieces and interact with all of it's components… and this is probably a good explanation of what it actually does.
So if you've ever wanted to be able to filter on fuzzy matches of 99% to help you find segments that may have a duplicate translation penalty… or if you wanted to be able to take a 500 file Project, copy source to target, set as translated and lock various segments based on their Document Structure Information … or you wanted to use regex to find dates in the source segments as they were not recognised by Studio and correct them using back references before sending the file for translation… or you receive a number of TTX or Bilingual Doc files and want to clear all the target segments so they are empty before you start… then these sort of tasks can be easily accomplished by the SDLXLIFF Toolkit.
It would probably be easier to list the things it can't do with an SDLXLIFF… certainly the interface explains it well and shows how you can select various criteria before deciding whether you SliceIt!, ChangeIt! or Clear it!
Statuses

In a nutshell the "Statuses" tab shown above allows you to carry out various functions based on the status of the segments…
SliceIt!
This allows you to select segments from a single file, several files or a complete Project, and create new SDLXLIFF files containing only the results of your selections.
ChangeIt!
This allows you to select segments and change the "Translation Status", lock or unlock them, or copy source to target for the selected segments.
ClearIt!
This allows you to clear the translations for the selected segments
But that's not all!  There are also two more tabs next to the "Statuses" tab.  A "Search" and a "Replace" tab.
Search
In here you have the same SliceIt!, ChangeIt! or Clear it! options at the bottom but you can decide what segments get used based on a natural search query, regular expressions or by searching in the tags: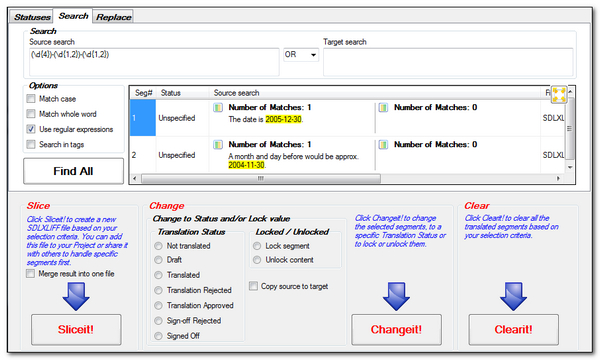 Replace
The replace feature is possibly my favourite of all with this excellent application.  Here you can set up your search and replace patterns, again using a natural search query or by using regular expressions and then preview the result before you make the replacement so you can make sure you are not doing something you'll later regret.  So in this example I took the same search pattern for a date in the format yyyy-mm-dd and replaced it with dd/mm/yyyy…



There are so many possibilities for this application that I could very nearly write a book on this alone!  Certainly I think it will be the Toolkit you won't want to be without!
You can download this tool from here and use it if you have Studio 2014 installed…
The SDLXLIFF Toolkit