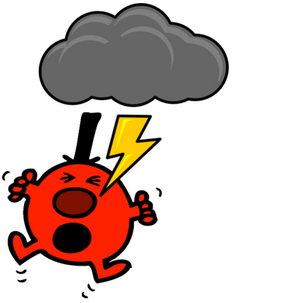 It's true… I'm a die hard desktop user.  I love the benefits I get from my mobile phone, using dropbox, the benefits of machine translation, Netflix and all the cool things that come with being able to use online features in the cloud.  But I've still been reticent to wholeheartedly embrace online technology and talk about it in this blog.  When I ask myself why that is, the first thing that crosses my mind is the unreliability of online connectivity.  Some people have a view of me as being a calm and patient person, and I do try hard to be that person, but when it comes to a lack of connectivity I turn into Mister Angry and Frustrated very quickly!  So the very idea of working with solutions that only offer an online capability for everything leaves me cold.  It's one thing being unable to watch a film, share files, pick up my email or use my phone, but not being able to work at all is another thing altogether.  If I was working as an independant translator with all the benefits that can bring of being able to work anywhere, then having a good offline capability would be essential.  Studio of course offers me the offline capability, but today (and in a few more articles as there's a lot to cover) I want to talk about the cloud and in particular SDL GroupShare.  Many of you may wonder if this has any relevance for you, but hopefully you'll see it does because the solutions SDL offer in this space give you the flexibility you need when working with the cloud and even as a freelance translator you may get asked to work in that environment.  I'm going to tackle a few scenarios to explain, starting with creating projects.
Creating Projects
There are essentially four ways to create projects using SDL Trados GroupShare.
Create them in Studio when you are working online and publish as the project is created
Create them in Studio when you are working online or offline and publish to GroupShare whenever you like
Create the projects using the GroupShare web interface
Create the projects automagically using the API
Create them in Studio when you are working online and publish as the project is created
I'm not going to explain how to create a Studio project as this would be all you'd have to do and it's a well known process.  But there are a few additional things worth noting. If you are going to create your project and publish as you create it then first of all you need to specify where your GroupShare instance is.  You've probably seen this before in the Project Wizard and you may have even clicked on the hyperlink About Trados GroupShare… just to get an idea what it's for:
The location relates to a space on the server that has been set up for your projects.  This could be anything at all depending on how GroupShare is being used.  So an LSP might have this set up using the names of their clients as "organisations" or locations so that each project is clearly separated; or an enterprise might split it up by department… anything goes.  When I log in and click on browse I am choosing the "organisation" called multifarious that I created specifically for the projects I'm using here.  You can see there are already two projects called m_001 and m_002… these are just the bland names I gave them in exactly the same way you name any Studio project:
Once you've done that Studio will offer additional information to you based on the login credentials you were asked for when adding the server location.
GroupShare works on the basis of a simple workflow that is mirrored in Studio; Preparation -> Translation -> Review -> Finalisation.  So next there is a "Planning and Assignments" window in the Project Wizard where you have the ability to assign work to particular translators/reviewers for example. This information can be set up as part of a Project Template which is really handy when you want to ensure you allocate work to the right experts for the work required and have very large projects with many resources to manage: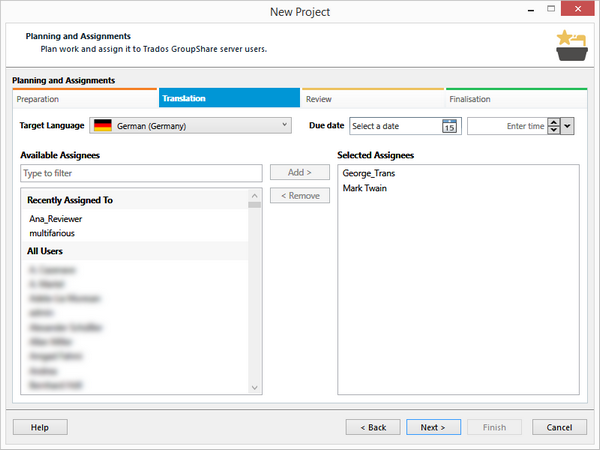 The last part of the project creation then shows you the additional steps with the project being scheduled for publication to the server, the publication and the user assignment based on your choices above… the rest of the process is exactly as it is in Studio so the learning curve is very low:
At the same time the user(s) assigned the project preparation receive a notification in their email with details of the project and the files to be handled as well as links to open the project online or in SDL Trados Studio.
Create them in Studio when you are working online or offline and publish to GroupShare whenever you like
This route is probably even easier as you would take a project already in Studio, that could have been created offline while on a train, or a plane… or even just working somewhere with poor connectivity like my hotel room as I draft this article… and you click on the Publish Project icon in the Trados GroupShare group in your Home ribbon: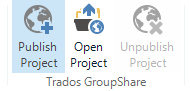 You specify the location as above, making sure the project is placed in the correct Organisational structure

I actually get a warning when I do this but the reason for this is that I created the project offline using a local TM to pretranslate the work… so the warning is really just a message telling me that my local TM will not be available for sharing.  Fair enough… so that would be one disadvantage of working this way since the leverage I applied to the project with my personal TM may not mirror what's available if I'd used the Server based TM in GroupShare.  But at least I was able to prepare the files and create the project making them ready for GroupShare without having to rely on only being able to do this when online.  So the option may be handy, especially when traveling a lot and still having to keep on top of a busy workload.
Another disadvantage to working this way, and the first example above, relates to the analysis.  The analysis for this project now resides on my local machine so if I go looking for the analysis on the GroupShare server I won't find it… instead I have this message telling me I'll only see it if I create the projects through the GroupShare interface: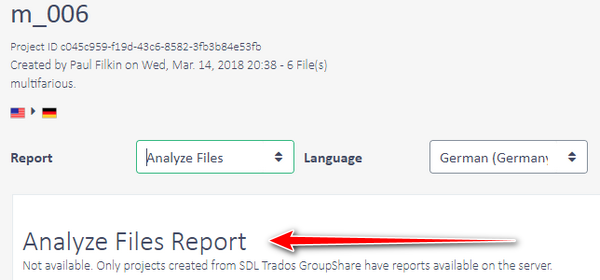 This is something I have seen before and is one of the reasons for creating the XML Reader plugin for Studio.  You could attach the XML Analysis file(s) that were created in Studio to the Project as reference files only and check them in:
The translator can be provided with the reference files relating to the files they're being asked to work on, or they can download the analysis themselves into Studio or separately through the GroupShare web interface, and then using the XML Reader in Studio can see the analysis without you having to export them to Excel and share the Excel version around.  In case you're wondering why this plugin is needed it's because Studio can't read an XML analysis report from an XML file alone, it can read the files for projects you create yourself but not from XML files sent to you unless they are included as part of a Studio Package.  So just a handy little timesaver.  I'm also aware of another tool created by Petro Dudi called the Trados Studio XML Analysis Viewer and this gives a more simplified view but also has a couple of other neat features for reading the analysis from a package for example which I guess is handy if you are not translating with Studio.  In fact Petro creates all kinds of interesting tools so worth checking his website out.
Create the projects using the GroupShare web interface
The third way of creating the projects is through the GroupShare web interface.  I like this approach a lot… in fact I'm warming to the whole cloud thingie… because it's a one screen wizard! Enter a few simple details and select the Project Template you want to use and drag and drop your files, finally click Create and you're done:
This time the analysis report is available to me in the web interface too, and also to the translators or reviewers working on the files.  When they log on they have a little dashboard which is really pretty neat (more on that in a subsequent article as I warm up to working in the cloud…) and they can see the analysis in there.
Perhaps the only downside, if I wanted to be negative about this process is that I can't create the templates online.  Instead I would create the Project Templates in Studio and then import them to GroupShare for use in creating online projects.  But even this is a clean and easy to use process and it does have the advantage of knowing that you are using the same templates for projects created in Studio as those used in the online interface of GroupShare… as long as you are diligent about keeping them in synch if you change anything.  So developing some good maintenance practices is essential here:
Once the projects have been created the translation work can be done online using the Studio online editor (more on this in a future article… looking forward to that one!) or the translator can download the Project to Studio where they have the ability to add their own resources (TMs, Termbases, appstore plugins etc.) in addition to using the ones you have provided to help with the work and they can do it in their personal productive environment where they work best.  You may have noted I referred to this article on project templates since it provides a smart way to add your own resources to a project in a couple of clicks… very handy, but always a good idea to make sure that you use your own in addition to the things that may have been set up to help the project manager fulfill the overall project objectives, particularly around QA where they might have some Translation Quality standards to adhere to as part of their obligations to a particular client.  So don't override them without agreement first… there are options to merge or retain existing settings for the different features of a project template:
But then back to the analysis again… you won't find the analysis in the project when you work this way and you will have to go online to the web interface to see the breakdown for the files you have been asked to work on.  The email notifications that are sent out to you when there are files available for translation provide a simple wordcount but not the full analysis… fortunately GroupShare has been built on its APIs so any organisation with developers could change this fairly easily and include the full analysis in the notifications.  In fact it's more of an html edit with a few calls to fields in the database so probably something the system administrator could do as well.  But more on the customisation and API capabilities in a future article!
Create the projects automagically using the API
Well… just this little bit on the APIs!  The fourth way to create a project is by magic… a little bit of developer magic.  The appstore team at SDL created a client library that sits on top of the Groupshare APIs to make it easier for developers to get started and use the various REST capabilities.  For those who are interested it's worth reading this article by Romulus Crisan introducing the GroupShare Kit.  This kit was accompanied by a sample application created by the appstore team that allows you to create projects with even less clicks and in a simple portal type interface that could be built for customers or project managers to use.  It could even be linked to a Content Management System or other document repository so that when documents were created by the authors they can be saved in a location where GroupShare picks them up automatically and kicks off the project workflow, finally putting them back into their respective language folders when complete.  There's really no end to what can be accomplished in terms of automating your workflows with a CMS, an internal ERP system, providing a mechanism for your customers to randomly give you more work… or create some interesting added value for your customers by making the translation memories you create with their content available to them to search online, or termbases to give them multilingual reference material for authoring etc.
I haven't mentioned many things… such as security of data, roles and permissions of users in the GroupShare ecosystem, checking in and out of files, working without Studio at all in the online editor, working on the same files concurrently, dashboards and management information, server based translation memories, server based termbases… etc.  There's a lot of stuff and I have never written about GroupShare at all, so probably inbetween other articles over the next few months I'm going to try and address the gap and share a few articles on all this good stuff!
The world of cloud computing gets more and more interesting for you and your customers… and I'm warming up to the idea!