It could be said that translators come into the industry for the love of language, and the creative nature of the work, writing beautiful translations that at least do justice to the original texts.  It might even be true for many… but let's face it, very few people can afford to do this for a full career without thinking about the money!  So it's all the more surprising to me that translation vendors don't provide a mechanism for dealing with the money in their toolsets.  Sure, you can have an analysis that can be used as the basis of a quote or an invoice, but you don't see anywhere that deals with the money!  The larger Translation Management Systems have features for doing this, or they integrate with larger Enterprise systems for accounting and project management, but what about the translators?  How do they manage their business?
Well… there are applications on the SDL AppStore that can help with this in some ways.  For example:
SDL InQuote – an interesting, sometimes problematic application, that can allow you to create quotes and invoices based on the analysis files in your Studio projects
Post-Edit Compare – a wonderful application that in addition to carrying out a post-edit analysis of the work you are doing can put a value to it based on your rates.  But it doesn't create quotes or invoices.
Qualitivity – another wonderful application that in addition to tracking just about everything you do in Studio can put a value to it based on the post-edit analysis or on a time basis.  But it doesn't create quotes or invoices either.
Why is it that none of these applications go that extra mile?  My guess is because that extra mile is more like 10 miles and in order to do it properly you really need an accounting system, or a project management system of some sort.  SDL Trados Studio does have integrations to tools like Plunet or XTRF and these can carry out all the things you would need (and some!), but for most translators and small businesses they might be cost prohibitive.
Fortunately the cost issue can be resolved with applications like BaccS, or TO3000 for example.  These are more affordable applications and have been developed starting with the translator in mind.  There may be others, but the ones I see more often are these two… what sets them apart is the ability of the application to work with the APIs provided by translation tools.  Anyone can use the XML analysis file that is created by Studio, but not everyone can take advantage of the APIs and really provide a smooth integration to make the overall translation workflow from quotation to invoice a smooth one.  Eugene Kuchynski, developer of BaccS, has done just that and in a very short timespan has provided the ability for translators, or small service providers, to experience working in such an environment.  In fact he's created a way to do this starting with a free version that offers a versatile and simple way to create quotes and invoices for the work you do, and it's fully integrated into Studio.  If you have the paid for version then you have access to a lot more features in the standalone application:
plan your workload
manage your clients and vendors
smart dashboard for managing your projects
create projects in SDL Trados Studio or SDL Trados GroupShare directly from BaccS
create your jobs in BaccS directly from Trados Studio
job assignments
track payments to translators/reviewers etc.
built in reporting and analysis functionality
access to both a desktop version and a web version of the software
ability to create/edit your own templates for invoices and quotes
… and more!
There's a lot in this software that I think is worth a look, but for now I'm going to concentrate on what you get for free with the latest integration available on the SDL Appstore.  To start with you have a small ribbon group in the Home ribbon for the Projects view:
The relevant features here are:
Create a quote
Create an invoice
The others are working if you have the fully paid for version of BaccS.  If you click on them with only the free plugin installed you just get an informational message explaining the main BaccS application needs to be installed and running… so no harm done!  If you click the other two then you will be taken to the appropriate view within Studio to complete the details for your quote or invoice relevant to the project that is highlighted.  You can also go straight to the BaccS TMS view that is also created in Studio and create your quotes and invoices in there: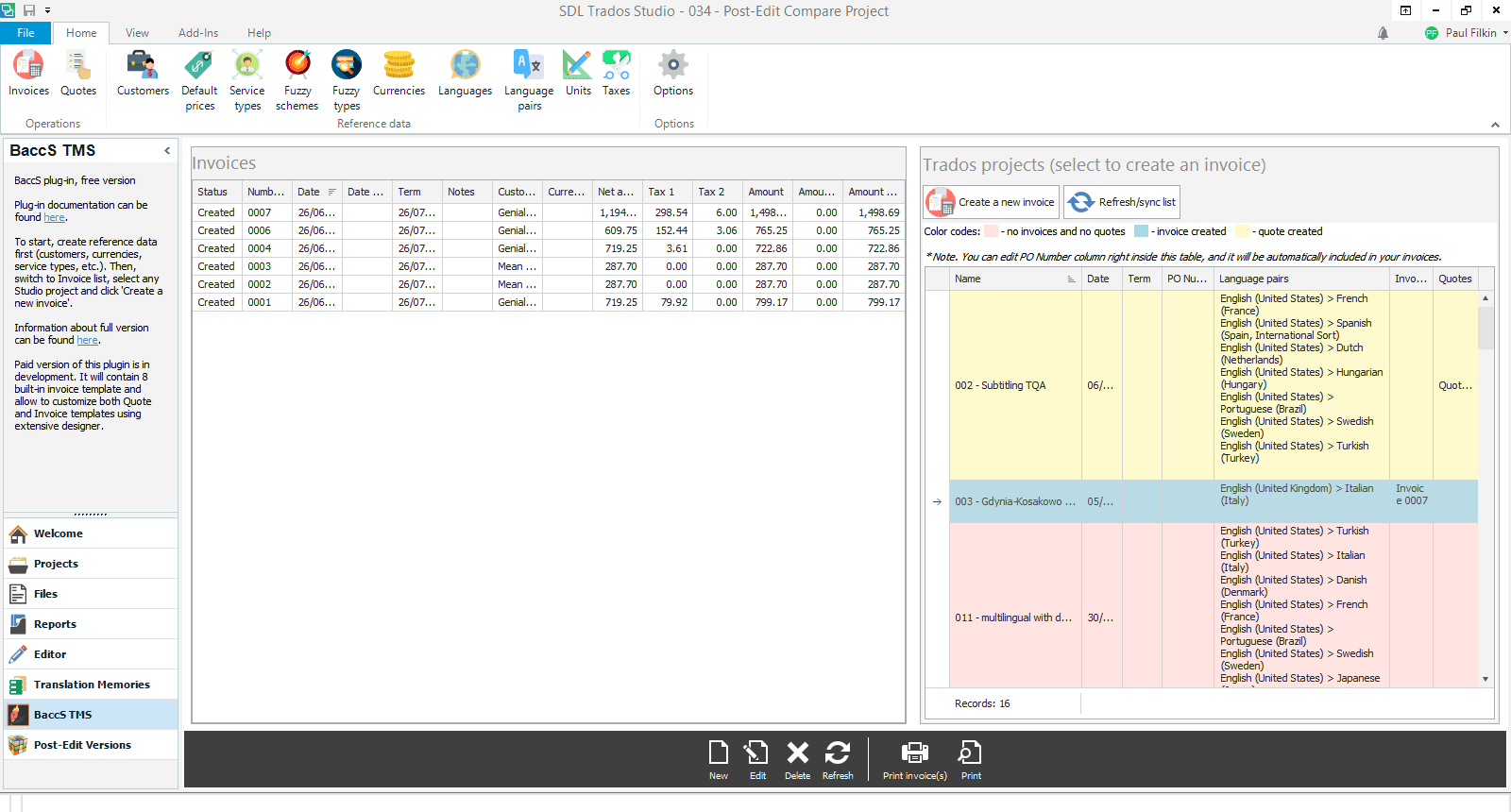 This view is very straightforward.  The main window is split into two with the left containing all your quotes or invoices, and the right containing a list of your projects in Studio that are colour coded to show whether you have quoted or invoiced already and for which language pairs.  Across the top you have a list of options and after playing with the application for a little while I found the best approach is to use the application from the start like this:
Taxes – add the sales taxes that are applicable for the work you do so they are available in a drop down when preparing your invoice
Units – set up the units relevant to the way you wish to be paid (by word count, hours etc.)
Language pairs and Languages – I just imported these from my projects so they are available in the pricing module. The Languages options provides a mechanism for customimsing the way they are written rather than use the culture identifiers and language variants as they come from Studio
Currencies – just add the currencies you wish to work with in here and they are available later for pricing
Fuzzy Types – these are the analysis bands used by Studio and you get the defaults that BaccS uses based on the Studio analysis.  But you can add your own or edit the existing… so I added one for Machine Translation for example
Fuzzy schemes – these represent the collections of Fuzzy Types that you have created and can be selected when pricing to suit the needs of a particular customer.  You can create or edit as many as you like
Service types – these are the services that you provide… so Translation, Proofreading, Post-Editing… whatever services you like.
Default Prices – you can create a pricing scheme for each type of service you offer
Customers – this is not linked to the Studio Customer list (because that list in Studio is next to useless and not accessible via the API anyway) but it does provide a much more useful way to manage your customers containing more appropriate information for each one such as name, address, tax details, minimum charges, default invoicing template, price lists for that customer etc.
Options – enter your personal details and preferences.  This can save you a lot of time by having your preferences already set up for invoicing and quotes as well as supporting some basic customisation to the templates.  I'd leave this to last because you can use some of the options from the other features in these settings.
I'm not going to go into more detail than that because I think that provides a flavour of the sort of things that are managed nicely in this plugin for Studio.  But if you want to read more details  you can click on the documentation link in the plugin and this provides a lot of information about how to use it and what the capabilities are.  Instead I have created a short video just to demonstrate how simple and well integrated this really is:
Duration: 7 mins 40 seconds
I hope this article has piquéd your interest, and if you don't have a way to manage this part of your translation business then I'd really recommend you take a look… makes it all ridiculously simple!  I'm super impressed with the developer who has been extremely responsive and found his way around the Studio and GroupShare APIs in a very short period of time indeed.  I expect to see a lot more in the near future as he doesn't strike me like an individual to rest on his laurels for very long!