How do you eat an elephant?  Well, of course we don't really want to eat an elephant, we love elephants!  But if we did want to eat something that large we'd do it in bite sized chunks!  This is something that is particularly relevant when working with large resources such as translation memories or terminology that is freely available from a number of places on the internet.  I've addressed this before in various articles… these two are particularly relevant to the topic I'm addressing today:
Since writing these articles you can find at least two places where you can get hold of curated terminology pulled from IATE and used in SDL Trados Studio while you translate:
Both of these resources available through the SDL AppStore make it possible to use the massive terminology resources available in any language pair supported by the EU and they have become an invaluable resource for many users.  However, they both suffer from the same problem of not being based on the current state of the IATE resource, and they don't contain as much of the useful information that is available through IATE itself. The IATE teams are regularly maintaining this resource as you can see from the details they publish on their website:

It's unrealistic for any of the existing providers of this data to update their downloads on a daily, weekly or even monthly basis, so resolving this can only be resolved by connecting directly to IATE and viewing the current information as it's maintained on a daily basis by the IATE team.
The IATE API
At the end of 2018 the IATE team made the API publicly available so that any developer could interrogate the data they have available directly without having to download and manually curate huge terminology resources.   This was very exciting news of course and we moved onto this immediately so we could create a terminology provider for SDL Trados Studio.  We built the plugin fairly quickly and then ran a Beta with a few hundred users for several months making sure that the solution was going to be useful for Studio users and also acceptable for the IATE team.
We released a production build of this plugin earlier this month and it's now freely available on the SDL AppStore for users of the 2017 and 2019 versions of SDL Trados Studio.
The IATE Real-time Terminology plugin
The plugin is installed by double clicking the sdlplugin file you download (a small download!) from the appstore and this will then give you access to several features that are really useful when translating:
term recognition in Studio based on the full IATE database
autosuggest from IATE
view term details from IATE
search IATE
Adding the IATE plugin to your project is simple, you do this in the same way you would do it using MultiTerm except you select "IATE Terminology Provider" instead of "File-based MultiTerm Termbase".

You will then be presented with the ability to filter the results based on the Domain and/or term types.  This isn't necessary, but if you do find you are receiving a lot of duplication this can help to narrow down the number of results.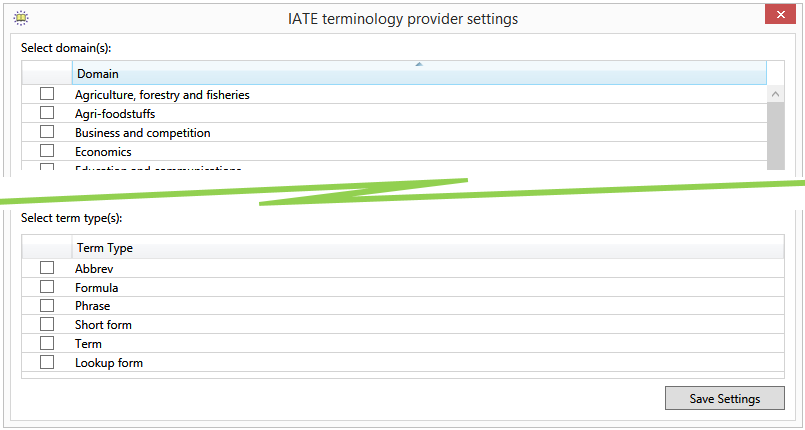 Once you've done that and you click "Save Settings" you're good to go!
You can use this provider with as many other termbases, or other custom providers as you see fit.  It's not one or the other.
Term recognition
Once you've added the provider everything will look quite familiar if you've used MultiTerm before.  The segments you are working on will show all recognised terms in the source with a red overline and the matching terms will be shown in the "Term Recognition" window.
AutoSuggest
AutoSuggest is enabled automatically if you have it enabled for Termbases under File -> Options -> AutoSuggest -> Termbases.  You will then be able to use the suggestions from IATE interactively as you translate:

View term Details from IATE
This was perhaps the most challenging part of the plugin to handle.  The IATE database contains almost 8 million terms and over a million terminology entries so displaying them all in the termbase viewer wasn't really an option.  Instead we resolved this by returning results that are relevant to the source segment you are in… essentially like eating an elephant!
You might be thinking "isn't this the same as the term recognition window?"  It's certainly similar but it's not the same at all as you can see in this image below where there is only one term found., "entry requirement", but many entries in the viewer.
The termbase viewer does several things:
displays possibly relevant information based around the terms found in the active source segment
groups duplicates that you can expand on in the viewer
shows other definitions and metadata
You can access the termbase viewer for a particular term by right-clicking on a term in the term recognition window and select "View term details".
The layout is deliberately very similar to the old flags layout in MultiTerm so it will look familiar to MultiTerm users… and it's my preferred layout anyway, nice compact and clear.
What you can't do
You can't add terms to this solution.  The termbase is read only as it's owned and maintained by the IATE team.
If you are using your own termbase as well as this while you work, which is highly likely, then you will find a few restrictions that are due to Studio/MultiTerm lacking functionality many users have wanted for many years:
to be able to add terms to your own termbase you have to make it the default.  This is needed because you can only add terms to the default, not to a termbase of choice.  Fixing this would be on my wishlist!
to be able to "View term details" the termbase has to be the default.  You can only view details of the default termbase.  This is a huge oversight and again something users have wanted for years… with good reason.  Fixing this would be on my wishlist!
So if you are using your own termbase in addition to IATE you will get term recognition and autosuggest capability, and this is definitely very useful, but you won't be able to use the handy termbase viewer unless you change the default termbase.
Fortunately we have some very clever and enterprising users, so Nora Diaz created this useful AutoHotkey script that allows you to change the default and add a term to a secondary termbase.  It would probably not be too hard to adapt this script so you could also select the termbase viewer for the termbase of your choice.  Great to have these options but I do wish we would fix it in the product!
Search IATE
The last thing this very useful IATE plugin does is it allows you to search the IATE website directly by right-clicking selected text and providing the results in an internal view in Trados Studio:
The viewer is just rendering the IATE website inside Studio so you don't have multiple seacrh windows open and you can avoid the distraction of your web browser while you work!
Finally…
We also added some IATE related features to "Tell me" in Studio so once you have installed the plugin you can type IATE into "Tell me" and you'll get a few useful links including places to get some help or provide feedback on the plugin as you use it
All in all this is a very welcome addition to the SDL AppStore and I believe will be used by many translators working in the EU language pairs.  Thanks to IATE for providing this, and even more so for publishing the API.  Developers rule!