Every year I'm lucky enough to attend a few industry conferences which always provide an excellent environment for gathering feedback, spending time on a one to one basis with people working in the industry and generally getting a reality check on the things I do on a day to day basis.  It's true that I spend a lot of time working in the SDL Community where I do get exposed to the sort of problems people are trying to solve, but it's really not the same as the exposure you get at a conference, especially if you attend with an open mind and a willingness to learn.  So I always look forward to attending the few events each year that I do.
Last week I attended UTICamp, the Ukrainian Translation Industry Camp, which takes place alongside the banks of the River Samara outside of Dnipro in Ukraine.  I've presented at the event once before, in 2016, using a remote connection as I was unable to attend and given it's 2019 now I feel I missed an opportunity for the last few years in not being there in person!
If you can only attend one event a year I'd highly recommend you choose this one!  I don't believe there is another event like this where you can combine spending time with your peers, knowledgeable professionals from around the world and your family for the best part of a week in a pine forest by the side of a river!
I had a chat with Stanislav Kalenyuk while I was there and he filled me in with a little history of the camp as his company purchased the area known as "Meteorite" around 10-years ago and has been slowly but surely returning the area to its former glory when it was a children's camp between 1965 and 2004.
His company, InText, organise the translator's event once a year and make the area available for other events the rest of the time.  I think he said he can comfortably take around 300 attendees at the moment but has bigger plans and could accommodate more through the use of additional tents.  Yes, tents… how many industry conferences do you attend where you can optionally bring your family and stay in a tent?  If you are wondering what that's like check out their facebook page which is full of photos and videos showing how to combine work and play in Ukraine!
I opted for a hotel… but even that is an experience.  A delightful walk through the forest and alongside the river in the morning to get to the camp and a trip back by boat in the evening!  The only downside was no internet at the hotel… but when you leave at 7am and don't get back until after 10pm do you really want it!!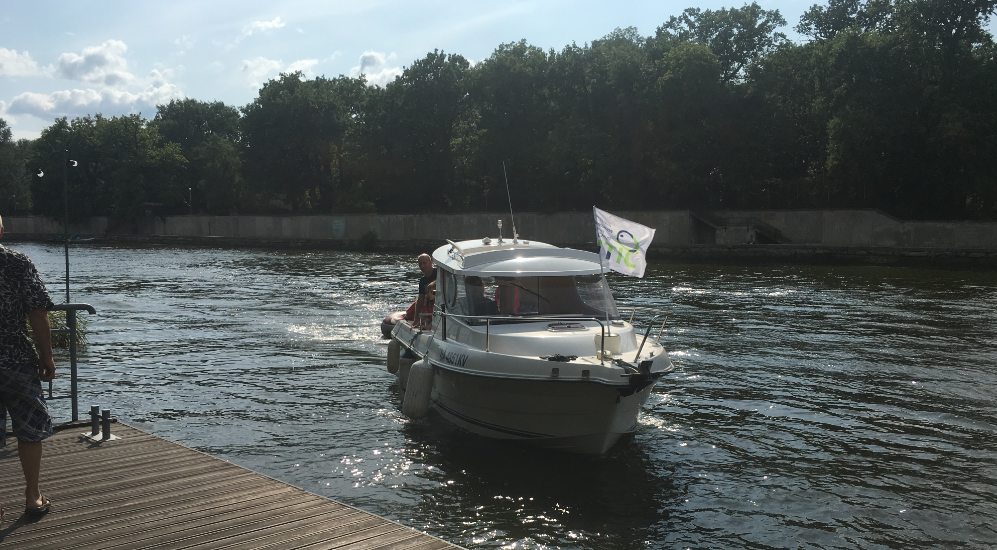 Aside from the obvious benefit of being outside all day, hearing the birds, hedgehogs crawl between your feet as you work, turtles and other wildlife in the river (not to mention the odd mosquito in the evening ;-)) the work aspects of the event are not to be underestimated.  There were three main locations for presentations all equipped with screens, audio equipment, computers and interpreting booths.  I've rarely attended an event where everything ran so smoothly and even when you buck the system and need to use your own laptop for a presentation it's handled seamlessly and without a fuss.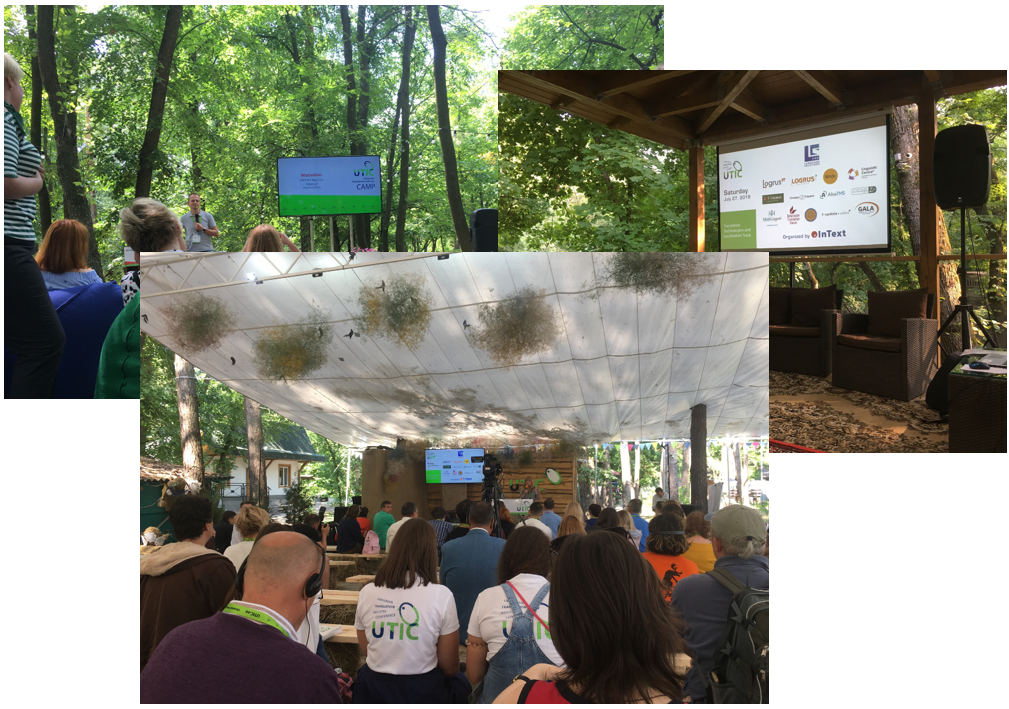 I was also able to comfortably work for a few hours every morning and every now and again throughout the day attending video conferences with my colleagues as if it was a normal office day… normal except I was outside and next to the river in some very useful working booths all with wifi and power.  Normally I wouldn't even think to mention the organisation at a conference even though I'm certain every event requires a considerable amount of effort.  But in this case the organisation required to support this many people, airport transfers, hotel transfers, meals, entertainment, technical and audio support etc. and all in the middle of a pine forest is worthy of mention.  All of the InText team did a fantastic job!
On the technical content of the event itself… the presentations were all relevant and questioning, dealing with the sort of things we all want to know more about… the future!  You can find the full program here and make sure you look at the kids program and things that went on outside of work!
For me personally the highlights were the focus on Audiovisual Translation with Maria Babkina who opened my eyes to a lot more opportunity for subtitling translation than I'd originally envisaged as she explained about Audio Description and other forms of translation work in this field; spending time with Sameh Rageb and Iryna Lebedyeva who are surely the king and queen of productivity tips and tricks… certainly they've given me more than enough ideas to keep our appstore team going for a good while; Katya Filatova and Alessandra Martelli on the transcreation process as we had a very interesting round-table discussion on this very topic trying to find the places where technology and creativity can come together.  There were many more highlights and more people to mention than I have here but I just wanted to share a little of what you can expect when you attend next years event because it is all relevant and up to date!  If you weren't thinking about attending you should!!
Lastly I'll just mention another first for me… I was asked at the last minute to deliver a keynote and it had to be non-commercial (the first for me was a keynote… I'm always accused of being non-commercial!)  Fortunately we have no shortage of material for this sort of stuff at SDL as we do consider ourelves to be thought leaders… so I did pull together a presentation on "Change without disruption" to follow Kimmo Rossi from the European Commision. You can find both keynotes here if you're interested.
So if you're planning your conferences for next year do think about this one… you truly won't regret it!  I certainly don't and I'll remain hopeful I have an opportunity to attend again next year.  If nothing else, think of the carbon footprint… conferences like this should really be the future, although I somewhat doubt there will be many locations able to provide anything like this!