Time seems to be going faster as I'm getting older as it doesn't seem that long ago since we saw the release of the 2019 version of SDL Trados Studio.  But here we are, it is that time again and many users will already have noticed they have a shiny new version in their account… SDL Trados Studio 2021.  Fast as it is, we don't want to do these product launches too often because I can tell you it's a major undertaking requiring no small amount of coordination between the product management teams, core development teams, AppStore team, support teams, customer success teams, marketing teams, sales teams, back office teams, IT teams, 3rd party developers who provide plugins and more.  In addition to this we often have other projects on the go and many of the teams worked on the new sdl.com website which also went live this week, AND everyone did all of this while having to work isolated from their colleagues while working from home.  Quite an achievement and I certainly feel proud to be part of this SDL team, and not just because of how well they all work together.
I'm prompted to write this article because this release of SDL Trados Studio 2021 along with SDL Trados Live has easily been the most complex release I've seen in the 14-years I've worked at SDL.  It sets the groundwork for a completely new way of working, and at the same time doesn't forget where it came from.  Yet after all my time working in a mostly customer facing role I already find myself worrying about how to handle the inevitable disapproving posts and comments in the forums which makes it quite hard to enjoy the positive.  Perhaps this time around we'll see users visiting the forums to tell us what they like and not just what they don't because there is a lot to be positive about since it's not the usual stuff!
So, safe in my perception that the majority of users probably don't read release notes (or very few do anyway), I'm going to pick out what's important in this release so you have it here, nice and easy to find.  And then, over the next few months/years, I'll add my own take to the many articles we'll probably see from others on what this release is all about.  So, starting in reverse order… I have no idea why these are at the end.  I like many of these the best!
New Features
Central location for all the data files
For those of you familiar with all the places you can find the user settings, log files, user profiles etc. in Studio this will probably be a welcome change.  Now everything is here:
c:\Users\[USERNAME]\AppData\Roaming\SDL\SDL Trados Studio\Studio16\
In previous releases you might be familiar with the 14.0.0.0 and 15.0.0.0 etc. for resetting the software… so it's important to note it's now Studio16 and NOT 16.0.0.0.
Filetype enhancements
Updated, faster Adobe FrameMaker support.  A change to the default XML so it now uses the newer version 2 XML filetype by default.  Support forYAML, and a really long awaited filetype supporting email formats (*.msg, *.eml, *.emlx, *.oft) that also supports embedded content processing: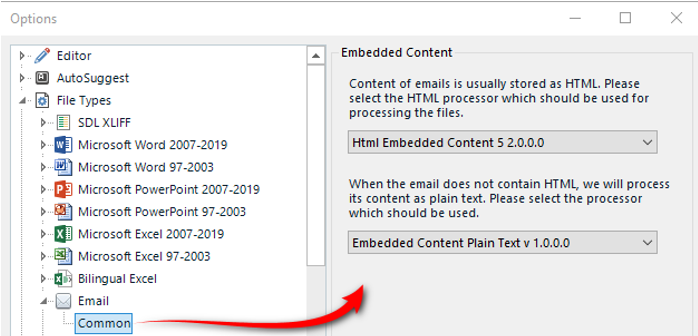 Faster and smoother processing
Large packages
A very welcome improvement… anything that improves performance and robustness is a winner for me!  According to the release notes Trados Studio process packages with over 1000 files around 20% faster.
Translation Memories
If you have long lists of TMs in the TM View, or in your Project Settings it can be infuriating waiting for them to open.  Now, according to the release notes, it's virtually instant!
Faster QA checks
It's now much faster to run QA checks… excellent!
Faster Editor View
During the Beta I didn't test every single thing in Studio personally, but I did experience the improvement in the Editor view and really love it.
faster processing of long documents
faster selection of multiple segments
faster segment merging and splitting
faster document alignment
I'm pretty sure there will be users out there with particularly problematic files who may complain they don't see an improvement.  I can only say I really noticed this and was super impressed with how much trouble free splitting and merging I was able to do and still get my target files out.
The RAT!
For those of you who know, and love, the RAT!  It's an app created by the AppStore team that I thought was now in the product.  But it's not… the improvement in 2021 is to prevent the sliding in and out of the termbase viewer… the rewriting of the terms in the list still takes place when you add a term.  So it is better… but we're going to have to bring back the RAT for 2021 to ensure that Really Amazing Term addition experience!
Updating GroupShare project files
The uploading of saved changes back to the GroupShare server is now handled in the background.  So now you can carry on working on the project… downside is no time for coffee!
Automated Translation and Machine Translation
When you add a Machine Translation provider to Studio you then need to go into the Batch Processing settings and make sure you tick the boxes to use Machine Translation if nothing is found.  Not any more… now it's set by default as soon as you add a Machine Translation provider.  That will be very helpful since it comes up a lot on the forums when users don't get their projects pre-translated with Machine Translation:
Better Navigation and Filtering
Project and Files View
For years I always wondered why we didn't do anything with the "Customer" name from the Projects.  If you're a user of "Trados Business Manager Lite", or the new "XLIFF Manager" for Trados 2019 then you'll see the AppStore team have done something useful with it, but the core product didn't use it at all.  But now you can!
right-click on the column headings and you can add "Customer" and then place it wherever you like.  I used it as a domain filter here, but if you organise your work by customers it's probably a very nice feature to have
Now you can search on the project name, or part of it, and you can filter on the "Customer"… brilliant and long overdue!
I added a 3. because I haven't shown it in the screenshot, but you also have the search in the Files View too… similarly long overdue!
GroupShare Projects
Should be popular with GroupShare users… new search filters to be able to help find the projects you need by "Project name", "Due Date" and "Status":
Community Inside
Some input from the SDL Community Team and the AppStore Team…
If you navigate to the Help menu in Studio and then click on the SDL Forums icon you'll be presented with a list of the Translation Productivity forums and what each one is for.  Click the plus symbol next to the one you want and the window for actually posting your question or comment will open up in your browser.  No more getting lost navigating around the community trying to find out where to post!  Great feature to help all users find support when they need it.
Keyboard Shortcuts Support in the Editor
Another longstanding requirements from translators… better keyboard shortcut support.  It's already pretty extensive in Studio but it can always be better… so here's what's improved (check the release notes for the full explanation).
NEW AVAILABLE SHORTCUT
DESCRIPTION
ACTIONS
Translation Results
Moves the focus from the Editor view to the Translation Results window.
Use the Up and Down arrows to navigate line-by-line (not result by result) through the translation memory matches.
Fragment Matches
Moves the focus from the Editor view to the Fragment Matches window.
Use the Up and Down arrows to navigate between fragment match results.
Term Recognition
Moves the focus from the Editor view to the Term Recognition window.
Use the Up and Down arrows to navigate between termbase results.
Termbase Search
Moves the focus from the Editor view to the Termbase Search window.
Press Tab to move from the search box to the list of search results.  Use the Up and Down arrows to navigate between results.
Concordance Search
Moves the focus from the Editor view to the Concordance Search window.
Press Tab to move from the search box to the list of search results.  Use the Up and Down arrows to navigate through the results line-by-line.
TQA
Moves the focus from the Editor view to the TQA window.
Use the Up and Down Arrows to navigate between results. Select a result and press:

Ctrl+Shift+E to edit TQA result.
F9 to move to next TQA item.
Shift+F9 to move to the previous TQA item.
Ctrl+Shift+Q to delete the selected TQA item To add new

TQA items, select some segment text from the Editor window and press Ctrl+Shift+T.
WorldServer Projects and Legacy Filetypes
One of the problems the development team have had over the years is trying to maintain and improve Trados Studio, but at the same time including support for all the old Trados ways of doing things and for working in an integrated way with TMS systems such as WorldServer.  Today, we can do a better job of this and make it easier to support them, by implementing the solutions as plugins for the SDL AppStore.  In this way we achieve at least these things:
Studio is slimmed down making the installation and maintenance process faster and more streamlined.
Focusing on future improvements and updating to use more modern technologies is easier
As an AppStore plugin it's easier to improve support if needed… when needed.  No need to interrupt the core development team with this stuff that is only used by a very small number of the total user-base.
So, you'll find two new installers in the AppStore integration (more on this later):
So if you work with WorldServer packages, or still use TTX and BilingualDOC then you need to download and install these packages.
Post published Note: Read this article for more information on this.
Language Restrictions!
I'm sure I don't have to ram the point home as this is indeed a very welcome improvement!  How many times do we see users of the Freelance version complaining that we only allow five languages, or that they chose the wrong ones and need to change them?
Well… Trados Studio 2021 Freelance edition is no longer restricted in this way.  Now you can use any languages you like.  There is a restriction however, but I think it's a lot fairer for a freelance translator.  You can only create multilingual projects with up to three different target languages, so if you need more you simply create multiple projects.
All in all a very welcome improvement indeed!
Import/Export of Language Resources
Good to see that you can finally export and import the resources from a translation memory or a language resource template.  I'm sure that for many users this will be a very welcome addition to the product:
This is great and also long overdue… but for multiple resources and flexibility you can't beat the applyTM template application which has also been enhanced by the AppStore team to support the new features in the language resource templates.  Rock on the AppStore team!
Fully integrated SDL AppStore with support for private distribution
Phew… this one needs breaking up a little and will be the first one I write about separately!
Integrated AppStore
Ever since the SDL AppStore came into existence users have told us it needs to be better integrated into Trados Studio.  Well now it is!
You'll find the link in the navigation pane of the Welcome View in Studio, and also in the Quick Access toolbar at the top so you can easily pull this up from anywhere in Studio.  More on this later, but suffice to say it's now become significantly easier for Studio users to find and manage plugins and application that are available for Studio 2021.
A special shout out to the AppStore team in SDL who did the development work for this, and who also upgraded around 100 apps to make sure they're ready for this 2021 release.  Also to a few 3rd party developers responsible for some favourites as they also updated their apps in time… Regex Autosuggest Provider, Rigi, Word Count Copy, TBTM Align.  There's still more to go but the choice is already fairly rich.
Private AppStore
This is an added bonus, and a fantastic solution for anyone who works for an organisation that provides a licence for Studio to them, but they don't own it in their own account.  These users have never been able to download apps from the appstore which means they have not been able to enjoy the experience as much as other users.  Typically this is Universities, Government organisations, large companies… basically anyone who licences Studio to their users via a network licence or borrowed activation codes.
It's also a fantastic solution for an organisation that develops their own apps.  You may not have known this, but there are many more apps in circulation that never go on the appstore at all because they have been developed for their own use and often provide access to integrated internal solutions.
With this release an administrator will be able to build and host their own private appstore.  The AppStore team have created a small application and UI to make this simple:
Once configured it'll allow their users access to their apps, update notifications etc., all without difficult distribution processes:
I've been working with the AppStore team since the very beginning so I definitely relish this aspect of the release, and certainly intend to tackle this next in my blog.  But for now, if you're keen to get started you can find a few more details on how to set this up here.  Andrea-Melinda from the AppStore team has done such a good job of this at very short notice that even I managed to set it up!  So I imagine a more technical IT administrator will have no problems with this at all.
Optimized TQA functionality
For those users that include TQA as part of their quality process the improvements in this part of the release are really important… excellent usability features:
Enhanced TQAs window to quickly edit TQA items inline and toggle TQA mode ON/OFF.
Improved flow for capturing TQAs
Removed prompts for mandatory TQA information after making segment changes.
Possibility to bulk-edit TQA items by applying TQA information to multiple TQA changes in one go.
Added default TQA information: Category – Uncategorized, Severity – None, Penalty – 0.
Added Replacement edit type to indicate a coordinated TQA text Deletion and Insertion.
Various bug fixes to improve the overall TQA functionality.
Read the release notes though before you apply this into your supply chain!
Enhanced Advanced Display Filter
Hats off to the AppStore team again with this one… Trados Studio 2021 has replaced the Advanced Display Filter with the much loved Community Advanced Display Filter so now all users will be able to benefit from this whether they had explored the delights of the AppStore or not.
It's not a straight swap though… the AppStore team added this neat feature that is only available in Trados Studio 2021:
Ability to filter on modified on AND/OR created on dates:

That came out of some requests in the SDL Community, so hopefully a welcome addition to the feature set in addition to being a part of the product.
Custom auto-localization formats
Well… what more is there to say about this feature.  Possibly a step towards removing one of the biggest complaints users have had about working with Trados Studio since the Trados days!  It's now possible to extend the formats Trados Studio uses for identifying and auto-localizing placeables:
You now have access to a lot more than was ever possible and you can control, to some extent, what's recognised automatically by your translation memory.  If you don't know what this means perhaps this will help.  Imagine this while handling a technical document:

The blue line that doesn't extend past the 14 m3 means Studio has not recognised the unit.  The result would be that any autopropagation carried out in the editor could well be wrong.  There have been many workarounds using regex to solve this sort of thing, but now you can just add the missing unit in here for example:
And now you'll see this:
Perfect!
An important point to note with this is that it's designed to recognise the formats in the source and then Studio will convert it to the format it thinks should be used for the target based on the rules in your operating system.  There is no mechanism here to manipulate the target as well.  Still a significant improvement, but good to see where the focus needs to be next to avoid having to continue working around results you don't want with regular expressions.
Create and work with translation projects in the cloud
This is of course the big ticket item!  In the release notes this is the first item, and it's the story everyone is discussing in the forums and social media.  I definitely think this is a great piece of development and for organisations using SDL Trados Live Team or SDL Language Cloud Translation Management to create and manage their projects it has some really nice features, for example:
you can create projects from any device (even a MAC) and can access your work anywhere you have access to the internet
it includes a really good online editor that will be immediately familiar to anyone who has used Studio… even lets you switch to a source on top, target below view for working!
there's an app available to manage your projects (not to translate) on the Apple store and on Google Play.
work carried out in Studio or in the cloud is synced whenever you're online, including work in the editor
sharing resources like translation memories, termbases, project settings etc.
shared dashboards
secure cloud storage for your translation projects (this white paper may be useful if you're wondering about security)
processing of the files is carried out in the cloud freeing up Studio locally to quickly move onto other tasks
no need to upgrade as SDL will do it for you!
and probably more….
So a really good step in the right direction.  Now, with this release SDL Trados Live is also available to everybody which means that Freelancers working with a FL licence, or a Professional licence will automatically be given a 12-month subscription to SDL Trados Live Essentials for free!  What does this mean?  It means that you can create your projects in the cloud instead of locally on your device.  If you do this you'll be able to access them on any device that has access to the internet, and you'll be able to use the online editor which is a surprisingly pleasant environment to work in.  It also means you can easily pick up projects assigned to you from companies using the Team and TMS solutions… and you can add your own resources to them even though they're cloud projects if you're able to choose to work on them locally!
If you can do all this then why is it just a step in the right direction?
Currently you need to decide whether you go cloud, or you work locally, when you create your project.  If you choose local then you can't easily decide to review your files in the cloud or pick them up later on your friends device over the weekend.
If you're just working on the odd file here and there it's much faster and more efficient to work locally
If you want to be able to use some of the apps from the AppStore (filetypes, batch tasks for example) then you need to be working locally
These are things we'll see addressed in a future release which is why I see this as a good start… a really great start in fact.  But it's important to understand this from the beginning and pay attention to the defaults when you're creating your projects.
Conclusion
All in all I think this is a great release and I hope you can see why it's not your usual stuff.  There are some really important changes in this release as we finally start to see some of the benefits of the work carried out in the last couple of years to significantly change the way we work with our translation tools at SDL.  But most importantly I think there are improvements in here for everyone… it's not just a release for project managers, and it's not just a release for translators.  It's also a release that brings us a step towards the future without losing sight of the need to continue to support an offline working environment.