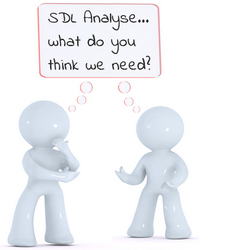 … and hundreds or thousands of heads are better than two!!
I wrote an article a little while back called "Vote now… or have no say!" which was a follow up to the SDL AppStore competition SDL ran for a few months.  I wanted to remind everyone to go and vote if they wanted to have an opportunity to see an app developed that would be useful for them.  Well the competition is over now and we have a winner, so now we can move onto the task of creating it.
The winning idea from Marta, a Spanish freelance translator, was the "Quick Wordcount" idea and we have encouraged all users to contribute to this so it's as useful as as we can make it for as many users as possible whilst ensuring we deliver the intent of the original idea.
To remind everyone this was the idea:
"When you receive an email saying "when can you have this?" you need a
word count right away. The client wants your answer now. Sometimes, you
don't even need a TM, because it's a new client working in a field you've
never worked before. So it would be really helpful if there were a widget
you could have on your desktop for that"

This all sounds very simple doesn't it?  But when you think about how Studio works compared to the old Trados Workbench, and the potential for many improved features as well as just questions around what you expect to see then this gets more complicated than you might first think.  For example;
should this be able to use a specific Translation Memory, if so which one?
should it be able to take advantage of Project templates so you can get this quick wordcount based on the language resources for specific customers?
what format should the report be in (xml, csv, excel, html etc.)?
should it only sit outside of Studio working of a default setting or would it make sense to offer more features and reside inside Studio too?
would it be helpful to have the results copied to the windows clipboard so you simply paste the result straight into your email?
do you want a preview of the results before they are rendered to a report?
These are just six off the top of my head, but as you'll see from the community we already have a few interesting suggestions on how this could be more useful and these came from only a few interested users.
Well, we've made a start with the ideas we've got and to give you visibility into this we have broken the work up into bite sized chunks and added them to a public Trello board where you can see them, vote for them if you think they are important, and generally watch the progress as we work through the development work.  We will also make Beta versions of the app available in the community as we reach sensible points in the process so you can feedback more on how this should work as we build it.  If you haven't used Trello before then maybe take a look at this motivating blog post on Trello for Translators by Elena Tereshchenkova.  I was introduced to Trello by a developer I work with and have been hooked ever since, but still found this article from Elena to be very useful.
Our board for this project is quite straightforward and just consists of some colour coded cards in various columns:
It won't look like this for long as we'll move the cards around as we tackle the work so you can see which bits we are doing when and why.  I think this in itself is quite interesting and I really like the idea of involving our community in this project as we go along.  If you don't have a Trello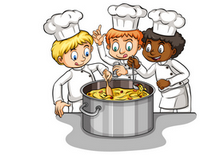 account it will look like the image above offering you the opportunity to sign up and get a Trello account.  It's free, you can do the cool things Elena shared, and you can vote and subscribe to the board we have made publicly available here.  You won't be able to comment or move this particular board around yourself… I imagine you can guess what this might end up looking like if you could… I think three cooks is quite enough!
If you do wish to comment on anything we are doing then you can, and should, use the SDL Community where we'll be very happy to engage with you and take everything into consideration.  There are a few ideas we won't get around to implementing this time around, but we are ensuring we build the platform for the future now so that it's easier to accommodate them later on.  For example, how do you like the idea of replying to your customers email with a "Reply with analysis" button in Outlook or Thunderbird?  We like it, and are building the foundations to be able to do this later on.  But for now our objective is to achieve exactly what Marta asked for whilst keeping it flexible enough to cater for the needs of others too.
We're looking forward to working with you!!