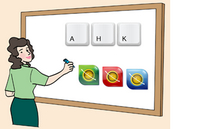 Microsoft Word has a very neat, at least some users think it's very neat, autocorrect feature that can correct your words as you type.  So when you are working in Microsoft Word you can take advantage of this.
If you like this feature wouldn't it be great if you could use it in Studio as you typed to supplement the other great features like AutoSuggest, QuickInsert etc… in fact wouldn't it be great if you could use your autocorrect lists from Microsoft Word in any editing application you have on your computer?  If you like autocorrect then of course it would be, and I see this come up in various forums quite often.
So here's one way to do it using an excellent application called AutoHotkey.  You can download AutoHotkey from here and it's completely free : Download link
This application has many enthusiastic users who often provide free scripts they have compiled to use with this tool that can change your words as you type as well as many other more complex and wonderful things.  I use it everyday to get around the lack of diacritics on my English keyboard, so as I type I can be presented with a list of the available ones like this for example when I type the name of Göttingen where I live:

This is really handy because I can use it when I'm writing a blog article as I have here, when I'm typing into Studio, when I'm writing emails, or even when I'm writing in Word.  I can use it in any application that allows me to write text!
Now, for most of you handling diacritics simply won't be an issue, but getting hold of that elusive autocorrect list might be.  So, here's how you can get that list into AutoHotkey.  First of all though you might want to take a look at this ready made script from Jim Biancolo that provides an excellent start as the current version contains not only the autocorrect list (in English) but also many other types of autocorrect uses: Download link  So click on the download link and then copy and paste the file into a text editor and save it as AutoCorrect.ahk  If you take a look at this script around 10% of the way down at the section called "Common Misspellings – the main list" you'll see the format that the simple autocorrect list you can find in MSWord needs to be in… so like this:
::avengence::a vengeance
::adbandon::abandon
::abandonned::abandoned
::aberation::aberration
::aborigene::aborigine
::abortificant::abortifacient
::abbout::about
This article is not intended to be a howto for AutoHotkey, there is plenty of help on the AutoHotkey website for that, but if you want to add your own list to this, or if your list is not in English (quite likely!) then first you need to get the list out of MSWord and then convert it to the format above.
I found two scripts (one for Word 97 – 2003, one for 2007 – 2010) that you can use to create a Word macro that will place your autocorrect list into a 38-page (for me) word document.
I have only tested this with the 2007-2010 version and this works perfectly, so please let me know if you use the 97 – 2003 version and it doesn't!  This is what I did… I created a new macro in Microsoft Word by going to View -> Macros (Alt+F8):


I then typed the name 1. AutoCorrectList (no spaces) and then clicked on 2. Create.  This opens up the editing environment, and I'm feeling very clever by this stage, where I simply copied the clever code (somebody else wrote) at the bottom of the code below this:
Sub AutoCorrectList()
'
' AutoCorrectList Macro
'
'
and before this:
End Sub
So I now have something that looks like this:


Once done I save the macro and close and return to Word:


That was pretty simple and I'm starting to wonder if I'm underpaid for knowing all this stuff (even if I didn't do it myself ;-))… so all I do now is go back to View -> Macros, select the AutoCorrectList macro from the list and click on Run.  This provides me with a 38-page document containing things like this:


Easy peasy!  But this still needs to get into the correct format for an AutoHotkey script, so I simply copy all of the contents on my Word file and paste it directly into Excel.  I now have two columns, with the dodgy typing on the left, and the corrected word on the right.  So I write a formula into cell C3 like this:
=CONCATENATE("::",A1,"::",B1)
Then I copy the formula down the spreadsheet until I have a column C that looks like this:


Then I can copy column C into my AutoHotkey script (don't forget you need to look at AutoHotkey and the examples to see how to create this) like this: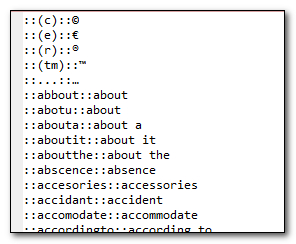 Simple… and now when you work in any application at all you will be able to use your autocorrect lists from Microsoft Word!
If you read this article, would like to do this, and still don't understand how after reading the autohotkey stuff I linked to, and trying to extract the autocorrect list from Word then just drop a comment below and I'll be happy to help… and then perhaps update this article to contain whatever is missing to make this easier to follow.  The important links again are these:
Good luck!