Growing a product range, buying new companies, being bought yourself, adopting new technology, reorganising  etc… all of this creates significant change across an organisation that often feels as though you're on a merry-go-round where things change as you go around until you're back to where you started and then it all changes again.  I can only imagine that feeling applies to customers and employees alike as each revolution strives to be better than the last, easier to navigate, meaningful in its purpose and full of the promise of success once properly implemented… and yet slightly confusing at the same time!
So where am I going with this?  Not so long ago, after SDL was taken over by RWS, I wrote an article to try and clarify the naming of our products as I thought it would be helpful… What's in a name? I hope it was helpful… but you'll probably guess by the title of this article that we've completed a revolution and are changing again!  We are… but really with more clarity than we've had before.  So this article is going to touch on two areas where this clarity should really help… the product portfolio and the RWS Community.
The Product Portfolio
Language Technology
To simplify this, and because I think many users still refer to the language products as SDL, I'm going to update the table I referred to in my earlier article as we've done a revolution on the merry-go-round and can start again.  The only difference to product names are really around the cloud solutions as we dropped the name "Live" and don't have an "Essentials" version anymore:
| | |
| --- | --- |
| OLD NAME | NEW "NEW" NAME |
| SDL Trados Studio | Trados Studio |
| SDL MultiTerm | MultiTerm |
| SDL Passolo | Passolo |
| SDL Trados Business Manager | Trados Business Manager |
| SDL Language Cloud | RWS Language Cloud |
| SDL Language Cloud Translation Management | Trados Enterprise |
| SDL Trados Live Team | Trados Team |
| SDL Trados Live Essential | "Essentially just a capability within Trados Studio" |
| SDL Trados GroupShare | Trados GroupShare |
| SDL AppStore | RWS AppStore |
Those of you sharp eyed enough may also note I didn't have "SDL Language Cloud Translation Management" in my original table.  I deliberately left it out as we always used to have a bit of a divide between our "Enterprise" customers using the large Translation Management Systems and everyone else.  The supporting technology is the same of course with Trados Studio, Multiterm, Passolo etc. but my own focus has always been on everything apart from the Enterprise solutions so I left it out of the table.  But now we have a clear progression when it comes to cloud.  The old "Essentials" is now just the capability to use cloud for an individual with Trados Studio… so not an additional product, you just get it included with your Studio licence… and then if you want collaborative capabilities you would move up to Trados Team and eventually as you grow you could move up to Trados Enterprise.  It's a nice, clear, progression.
All of these products above are now part of what is referred to as the Trados Portfolio and the part of the organisation I work for is structured to manage the products based on a team responsible for this Trados Portfolio.
A quick note on our other Enterprise solutions (Managed Translation, MultiTrans, TMS, WorldServer)… everything is still there and is still supported but I'm focusing on the Trados Portfolio and not the entire suite of products available through RWS.
Artificial Intelligence
Not to be left off the merry-go-round the machine translation products have also renamed slightly.  "SDL Machine Translation Cloud" was renamed to "Language Weaver Cloud" but now the word "Cloud" has been dropped and it's simply "Language Weaver".  "Language Weaver Edge" is specifically an on-premise solution for those companies that have needs  preventing then from using cloud solutions.
| | |
| --- | --- |
| OLD NAME | NEW NAME |
| SDL Machine Translation Cloud | Language Weaver |
| SDL Machine Translation Edge | Language Weaver Edge |
It's worth noting that all users working with the latest versions of Trados Studio do have access to Language Weaver machine translation… it's just a little hidden:
Since Language Weaver is a cloud-based resource you'll find it by adding "Cloud-based resources" to your "Translation Memory and Automated Translation" settings under File -> Options or under your Project Settings/Templates.  There'a a very good wiki article here in the community (albeit in need of rebranding at the time of writing this article!) that explains what you get in terms of free allowances of machine translation.
And it would be remiss of me not to mention the AppStore solution solutions that are available for "Language Weaver" and "Language Weaver Edge".  Both of these are available through the Private AppStore which is being used at the time of writing to distribute apps for Trados Studio users: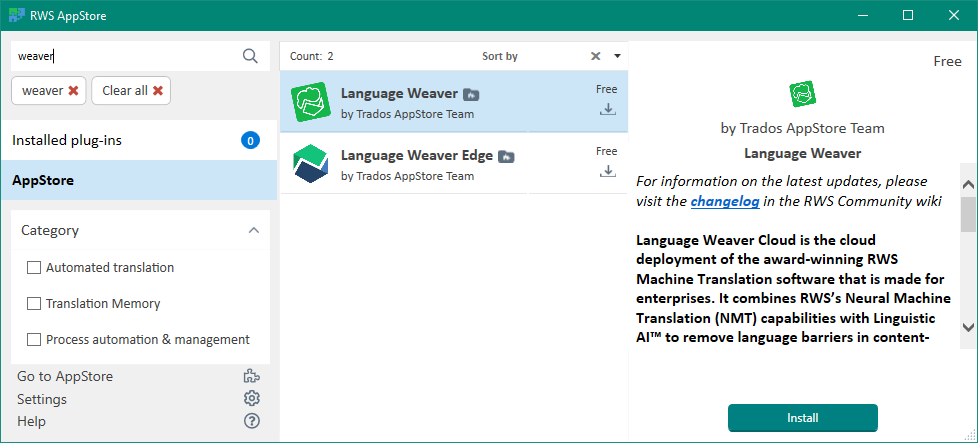 There are benefits to using the "Language Weaver" plugin rather than the out of the box solution… more on this to come in a future article.
The Developer Community
I also want to highlight the work on the merry-go-round that the developers are doing to simplify the location of everything a developer should need irrespective of the RWS products they are using.  You'll find all the information here:
All the available documentation and resources are grouped into three main themes:
Language Technology
Artificial Intelligence
Content Management
These pages are always being updated, but it's a great jumping off point for anyone working with the APIs and developing with our technology.
RWS Community
All of the changes on the merry-go-round are reflected nicely in the Community and as the founder of the original community at RWS I think I'm qualified to say that it really helps users to find their way around after a period of confusion with so many changes as the company grew.  You can see this in the top level navigation:

"My Groups" will contain a list of the groups you have joined and you normally need to join to be able to comment or ask questions.  After that it seems obvious enough… "Product Groups" where you'll find all the groups for the products at RWS… "Developers & More" where you'll go if you like to develop using the APIs and have questions… "Partner & User Groups" which you'll know about if you are a partner or belong to some user group supported in the community because you'll have been provided with details from being involved with the activities each one supports.  Then we have the "Ideas" section is the place to go if you have suggestions for improvements for any of the products.  You can search ideas others have created and add your vote for them, or just add your own ideas for the things you think RWS can be doing better.
If you don't know where to start I think a safe bet would be to use the "Product Groups" from this menu.  Most users come to the community to find something out about the products they work with so there is nothing cryptic or difficult about this.  Hover over the "Product Groups" and you'll see this organisation for language related Trados technologies:
Trados Portfolio
Trados Studio
Trados Enterprise
Trados Team
Trados GroupShare
Trados Business Manager
Passolo
MultiTerm
RWS AppStore
Connectors
Beta Groups
From all of these the only things that probably raise a question are "Connectors" and where to get help with licensing and installation questions if you don't have a support contract.
Connectors first… these are predominantly Enterprise related and are solutions allowing users of the RWS Enterprise products to connect to content repositories, typically a Content Management System (CMS), Product Information Management (PIM) system or a content repository, to a Language Service Provider (LSP).  You can find more information on connectors by reviewing this whitepaper.
On licensing and installation, which is something that could affect any of these products, you click on "Trados Portfolio" as this is the top level and then you'll find four forums:
General
Licensing and Installation
Product Help Documentation
Elevate – The Trados online conference series
The names are pretty explanatory and if you need help with a licence or installation issue then use the second forum in the list.  DO NOT add licence details, emails, telephone numbers or any other personal information.  You have to login to ask a question so we know who you are already!  In this forum we can convert the thread to a support case if needed and the technical support team will contact you directly.  Please don't add your question onto one that has already been answered… just create a new one as we can then include your details in the case and the support team can get back to you easily.
I think this is a great reorganisation of the community and in line with the way the products are now positioned.  All in all a happy position on the merry-go-round with good clarity that I think all our customers and employees will benefit from going forward.